WISeKey's Digital Identity for People and Objects Ecosystem is Expanding Exponentially as its Semiconductor Install Base Grows to 1.6 Billion Secure Chips and Root of Trust to 5 Billion Devices
WISeKey's Digital Identity for People and Objects Ecosystem is Expanding Exponentially as its Semiconductor Install Base Grows to 1.6 Billion Secure Chips and Root of Trust to 5 Billion DevicesFor WISeKey the ability to secure, capture, package and commercialize IoT data offers a potential new monetization model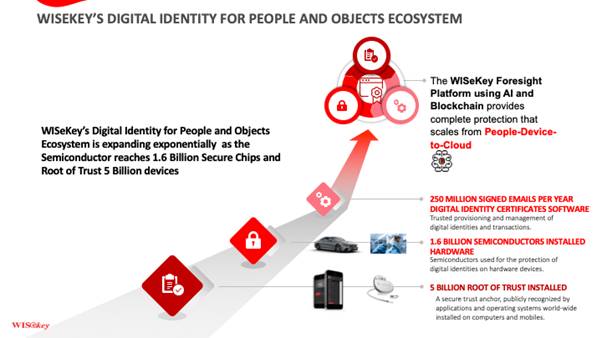 Geneva, Switzerland – June 10, 2020: WISeKey International Holding Ltd ("WISeKey") (SIX: WIHN, NASDAQ: WKEY),), a leading global cybersecurity and IoT company today announced that its Digital Identity for People and Objects Ecosystem is expanding exponentially and its Semiconductor install base grows to 1.6 billion secure chips and Root of Trust (RoT) to 5 billion devices. Currently, over 1.6 billion objects have been secured by WISeKey VaultIC and NanoSeal Chips and over 5 billion RoT are recognized by all operating systems (OS) both mobiles and computers and applications like internet browsers or email applications.The WISeKey OISTE RoT is a set of functions in the trusted computing module that is always trusted by the computer's operating system (OS). RoT serves as separate compute engine controlling the trusted computing platform cryptographic processor of the PC or mobile device where it is embedded. As the intelligence of devices on the edge increases, so does the attack surface. The expanding of Internet of Things (IoT) is convenient and allows the implementation of many disruptive applications with an increased risk of cyberattacks.WISekey as a cybersecurity company is uniquely positioned to protect consumers against the current data privacy abuses. The combination of RoT with blockchain generates a new Trust protocol in order to allow the blockchain to scale trusted transactions with embedded security, ensuring that each transaction submitted to the blockchain is digitally signed using keys that are trusted by the RoT and combining a vertical trust process verified by a reputable Third Trusted Party with the inherent decentralized trust provided by the blockchain.This dual Trust Model solves one of the biggest challenges for the Internet which is to bridge the currently fragmented trust domains including existing, incompatible national RoT used by many governments. By combining RoT with blockchain, our innovative Trust protocol enables a wide range of use cases and business models that simply are not possible with using just current blockchain-based solutions.One concrete application on the use of this new Trust protocol is WISeID which uses a Trusted Distributed Ledger Technology of Identity to store the identity of objects and people and offers connected objects the ability to identify, authenticate and verify each other with a digital certificate. During each interaction, the Blockchain of Identity verifies and validates each digital certificate to secure the interaction. To compensate the use of the platform, a micro service fee is charged through a utility token, called the WISeID token.Imagine an intelligent car protected by out IoT chips with a system processing authenticated data for each of the vehicle components, being able to detect if/when different parts will require service and to digitally sign all the logs required to prove that service was provided. This platform can be used in multiple industrial applications, allowing for optimized productivity across industries through predictive maintenance on equipment and machinery, creating truly smart homes with connected appliances, and providing critical communication between devices including self-driving cars and smart homes. The possibilities that IoT brings to the table are endless. WISeKey's technology creates a platform that helps connected devices to become intelligent devices that can learn from attacks, defend themselves, and transfer this intelligence to other devices in the network.In order to protect the Internet of Things (IoT), security needs to be embedded at the very beginning of the device microchip design, so the RoT is also embedded in connected devices, to secure the interactions among objects and between objects and business applications. The WISeKey Ecosystem install base has expanded in virtually all IoT sectors (smartcards, smart cities, drones, anti-counterfeiting, smart lighting, servers, mobile phones, etc.). WISeKey is uniquely positioned to be at the edge of IoT as VaultIC Secure Elements protect a huge amount of Big Data that, when analyzed with Artificial Intelligence (AI), can help industrial applications detect cybersecurity attacks or predict the failure of their equipment before it happens. The IoT revenue mode is recurrent, as what gets consumed and measured on a repeating basis are not the microchips or the RoT, but the authenticated data they produce and the services that this data enables.WISeKey's client base has substantially increased and its geographic footprint includes high growth markets such as China and USA. In China this ecosystem is further enriched by the accreditation of the RoT, issued by 360 Secure Browser, the leading internet browser solution in China, with an estimated user base of over 400 million active users, and a market penetration close to 70%, according to CNZZ. 360 Secure Browser, developed Qihoo 360 Technology Ltd., has a strong focus on security, and combines antivirus and other features to secure internet connections.All IoT connected devices need security, and many of them will use sensors with secure IoT chips like VaultIC. As the world becomes more connected, there will be an exponential growth of the number of sensors used to track everything including changes in the environment and the atmosphere, traffic on our roads, temperature of our homes and location of our mobile phones. Experts predict that, by 2022, 1 trillion networked sensors will be embedded in the world around us – each one requiring strong digital identity, authentication and data protection.For more than twenty years, WISeKey has been providing a range of Common Criteria certified tamper resistant microprocessors that can be implemented on IoT devices to provide secure storage and usage of sensitive assets, and to uniquely identify, authenticate and protect devices in the field. The digital identities of these assets can be efficiently managed through a Webtrust certified Public Key Infrastructure on premises or as a cloud service.About WISeKeyWISeKey (NASDAQ: WKEY; SIX Swiss Exchange: WIHN) is a leading global cybersecurity company currently deploying large scale digital identity ecosystems for people and objects using Blockchain, AI and IoT respecting the Human as the Fulcrum of the Internet. WISeKey microprocessors secure the pervasive computing shaping today's Internet of Everything. WISeKey IoT has an install base of over 1.5 billion microchips in virtually all IoT sectors (connected cars, smart cities, drones, agricultural sensors, anti-counterfeiting, smart lighting, servers, computers, mobile phones, crypto tokens etc.). WISeKey is uniquely positioned to be at the edge of IoT as our semiconductors produce a huge amount of Big Data that, when analyzed with Artificial Intelligence (AI), can help industrial applications to predict the failure of their equipment before it happens.Our technology is Trusted by the OISTE/WISeKey's Swiss based cryptographic Root of Trust ("RoT") provides secure authentication and identification, in both physical and virtual environments, for the Internet of Things, Blockchain and Artificial Intelligence. The WISeKey RoT serves as a common trust anchor to ensure the integrity of online transactions among objects and between objects and people. For more information, visit www.wisekey.com.Press and investor contacts:Disclaimer:
This communication expressly or implicitly contains certain forward-looking statements concerning WISeKey International Holding Ltd and its business. Such statements involve certain known and unknown risks, uncertainties and other factors, which could cause the actual results, financial condition, performance or achievements of WISeKey International Holding Ltd to be materially different from any future results, performance or achievements expressed or implied by such forward-looking statements. WISeKey International Holding Ltd is providing this communication as of this date and does not undertake to update any forward-looking statements contained herein as a result of new information, future events or otherwise.
This press release does not constitute an offer to sell, or a solicitation of an offer to buy, any securities, and it does not constitute an offering prospectus within the meaning of article 652a or article 1156 of the Swiss Code of Obligations or a listing prospectus within the meaning of the listing rules of the SIX Swiss Exchange. Investors must rely on their own evaluation of WISeKey and its securities, including the merits and risks involved. Nothing contained herein is, or shall be relied on as, a promise or representation as to the future performance of WISeKey.

Business Reporter: In Today's World of Stripped-down Shopping, Retailers Need to Start Focusing on the Essentials
Ever since high-street shopping fell victim to the onslaught of online retail – about ten years ago and counting – brick-and-mortar outlets have convinced themselves that, if only they could make physical shopping more interesting or fun – anything – they would somehow return to their rightful position at the top of the pile.
It was inevitable that something would come along to put paid to this wishful thinking, writes  CEO Richard Harris, in a new article for Business Reporter. And the Covid-19 pandemic has not, he says, so much hurt retail as taught retailers how seamlessly consumers could move online. "It turns out that although buying is essential," Harris writes, "Shopping isn't."
With the concept of "experiential retail" now rapidly fading into a past that isn't coming back, retailers need to focus on how to best approach the new post-experiental era.
Harris outlines two key concepts that businesses need to master if they're to prosper – "understanding intention" and "clearing the path". Machine learning will have a big part to play in the "new normal" of online retail, and the ability to predict consumer behaviour, and respond to it in real time, could mean the difference between a completed transaction and an abandoned cart.
"When you visit a retailer's website, the site knows what you're likely to do and behaves accordingly," Harris explains. "The site 'clears the path' and offers a clean interface to someone ready to buy. By contrast, it shows ads and landing page varieties to someone who is unlikely to convert."
is already leading the way, building thousands of models for companies using its Predictive Intelligence Platform, that boost revenue and reduce inefficient ad spending. Rather than getting people to linger in stores where they'll eventually buy something, in the post-experiential era, it's all about making shopping as fast, seamless and simple as possible.
Global Penetration Testing Market 2020-2025 – Increased Adoption of Cloud-based Penetration Testing Presents Opportunities
Dublin, July 10, 2020 (GLOBE NEWSWIRE) — The "Penetration Testing Market by Component (Solutions & Services), Application Area (Network Infrastructure, Web Application, Mobile Application, Cloud, & Social Engineering), Deployment Mode, Organization Size, Vertical, and Region – Global Forecast to 2025" report has been added to ResearchAndMarkets.com's offering.This market study covers the penetration testing market size across segments. It aims at estimating the market size and the growth potential of this market across segments categorized into components, application areas, verticals, and regions. The study also includes an in-depth competitive analysis of the key market players, along with their company profiles, key observations related to product and business offerings, recent developments, and key market strategies.Significant rise in mobile-based business-critical applications require more secure endpoint protection is driving the overall growth of the penetration testing marketThe market growth is driven by various factors, such as the need to secure endpoint protection due to the significant rise in mobile-based business-critical applications and enterprises moving toward implementing security measures due to increased sophistication in cyberattacks.By application area, the mobile application penetration testing segment to grow at the highest CAGR during the forecast periodMobile application penetration testing is basically for mobile-based applications which is done by trying to break into various mobile applications through different vectors. The methodology is a security testing, which is used to analyze security from the inside of a mobile environment. The mobile application penetration testing methodology concentrates on file system, hardware, and network security.The test results can provide an organization with knowledge of the vulnerabilities in the mobile application, loopholes, and attack vectors before delivering an app to the user, thus offering insights on how to mitigate the potential risks of mobile applications and secure the user credentials associated with it. Mobile application users are becoming aware of the different threats and thus the deployment of mobile application penetration testing is rapidly increasing. Therefore, the mobile application penetration segment is expected to grow at the highest CAGR during the forecast period.By deployment mode, the cloud segment to grow at a higher rate during the forecast periodIn the cloud deployment mode, instead of implementing the software solution on the local hardware, businesses subscribe to the solution hosted on a third-party remotely located server. By opting for cloud-based solutions, organizations can avoid costs related to maintenance of infrastructure and technical staff.Cloud-based platforms are beneficial for organizations that have strict budgets for security investments. Small and Medium-sized Enterprises (SMEs) deploy their identity verification solutions on the cloud, as it saves them from investing their capital on security infrastructures. Hence, the cloud deployment segment is expected to grow at a higher CAGR.Asia-Pacific to register the highest growth rate during the forecast periodAsia-Pacific (APAC) has great scope for the growth of the penetration testing market. The penetration testing market in APAC is anticipated to grow significantly, due to increasing government investments in improving security posture, increased sophistication of cyberattacks, and the amalgamation of technologies, such as Artificial Intelligence (AI) and Machine Learning (ML) with penetration testing.The fast expansion of regional enterprises in APAC is another crucial variant contributing to the growth of the penetration testing market. In the process of determining and verifying the market size for several segments and subsegments gathered through secondary research, extensive primary interviews were conducted with key people.Key Topics Covered
1 IntroductionFor more information about this report visit https://www.researchandmarkets.com/r/fm043xResearch and Markets also offers Custom Research services providing focused, comprehensive and tailored research.CONTACT: ResearchAndMarkets.com
Laura Wood, Senior Press Manager
press@researchandmarkets.com
For E.S.T Office Hours Call 1-917-300-0470
For U.S./CAN Toll Free Call 1-800-526-8630
For GMT Office Hours Call +353-1-416-8900


The Global Beauty Drinks Market is expected to grow from USD 1,943.82 Million in 2019 to USD 3,004.65 Million by the end of 2025 at a Compound Annual Growth Rate (CAGR) of 7.52%
New York, July 10, 2020 (GLOBE NEWSWIRE) — Reportlinker.com announces the release of the report "Beauty Drinks Market Research Report by Ingredient, by Type, by Demography – Global Forecast to 2025 – Cumulative Impact of COVID-19" – https://www.reportlinker.com/p05913553/?utm_source=GNWClare: clare@reportlinker.com
US: (339)-368-6001
Intl: +1 339-368-6001