Flexible Display Market Size to Worth Around USD 244.7 Bn by 2030
Tokyo, Aug. 02, 2022 (GLOBE NEWSWIRE) — The global flexible display market size was valued at USD 22.02 billion in 2022. The use of flexible display has been extensively seen in the automobile industry where do they use of touch screen has been observed with the rapid advancement in technology. The increasing demand for smart phones and smart watches has also boosted the demand for flexible displays. The recent trend of curved display edges has boosted the market for flexible displays to a great extent.
Get the Free Sample Copy of Report@ https://www.precedenceresearch.com/sample/1976
With a view to provide better flexibility and durability to the device the use of flexible display has increased to a considerable extent. The rapidly increasing number of people belonging to the geriatric population has also boosted the demand for flexible and durable display material.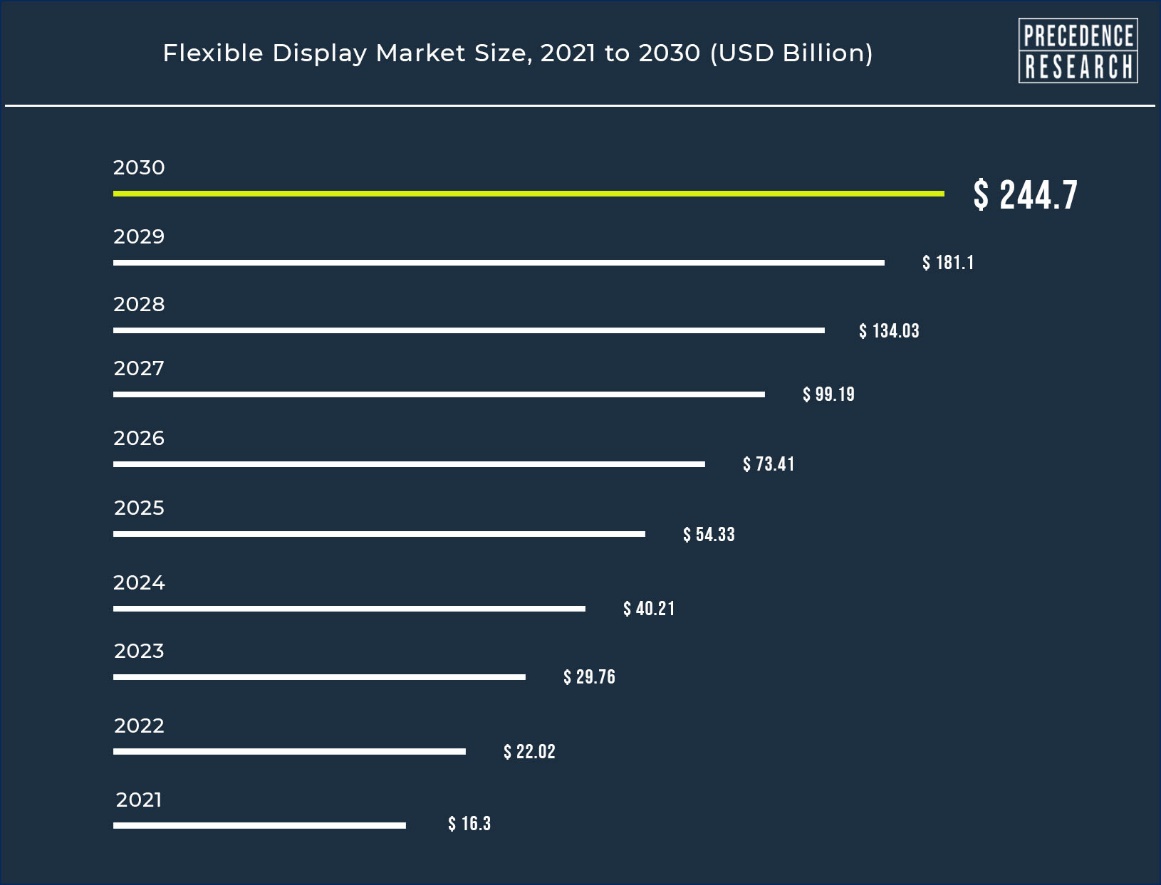 Regional Snapshots
The region of North America has proved to be the largest market for the flexible display as a result of the presence of leading automobile industries in this sector. The increasing demand for making the vehicles more interactive and customized as per the requirements of the consumer has proved to be a driving factor for the flexible displays.
The Asia Pacific region is considered to be the fastest growing market as a result of the increasing demand of smartphones and smart watches amongst the youngsters and teenagers.
The region of Middle East and Africa have also proved to be potential markets for the growth of the flexible display products. As a result of the well-established market of flexible displays in the region of North America, rapid growth is experienced by the key market players. The region of Latin America has also proved to be a potential market for the flexible display.
Key Insights
Asia Pacific region garnered 35% revenue share in 2021.
North America region contributed 25% market share in 2021.
The OLED segment accounted 64% market share in 2021.
The smartphone segment is expected to grow at a CAGR of 15% between 2022 to 2030.
The plastic segment accounted market share of over 70% in 2021 and is predicted to hit at a CAGR of 27% between 2022 to 2030.
Ask here for more customization study@ https://www.precedenceresearch.com/customization/1976
Report Highlights
On the basis of technology, OLED has dominated the segment as a result of its extensive use in the smartwatches and smartphones. The introduction of OLED has transformed the entire touch experience which was obtained from the flexible display market.
On the basis of application, the automobile industry has proved to be the largest market for the flexible display as a result of the rapid technological advancements that has been experienced over the period of time. In order to make the vehicles more interactive with the use of artificial intelligence, the introduction of flexible displays into this system is increasing rapidly.
On the basis of material, plastic has dominated the segment as a result of the low cost which is imposed during the manufacturing process of the flexible displays.
On the basis of geography, North America has proved to be the largest market for the flexible display as a result of the increasing demand of electronic gadgets with advanced technologies.
Scope of the Report
| | |
| --- | --- |
| Report Attributes | Details |
| Market Size in 2021 | USD 16.3 Billion |
| Revenue Forecast by 2030 | USD 244.7 Billion |
| CAGR | 35.12% from 2022 to 2030 |
| Largest Market | Asia Pacific |
| Fastest Growing Region | North America |
| Base Year | 2021 |
| Forecast Year | 2022 to 2030 |
| Key Players | Innolux Corp., AU Optronics Corp., BOE Technology Group Co., Ltd., Corning Incorporated, E Ink Holdings, Inc. Japan Display Inc., Samsung Electronics Co., Ltd., LG Display Co., Ltd., Royole, Others. |
Market Dynamics
Drivers
A rapid technological advancement has been experienced by the flexible display market in the recent years. The quality and weight of the display devices Underwent rapid transition with the development in technology. The space consuming and bulky nature of the displays have been transformed to slim formats which provide a better response to the touch of the consumer. The huge number of people belonging to the geriatric population proves to be a driving force for the flexible display market as these people cannot take care of the delicate features provided by the electronic devices. With the increasing competition among the key market players, advanced technologies have been launched into the market which attracts potential customers. The rapid advancements which have been observed in the field of education with the introduction of smart displays has proved to be a major driving force for the growth of the market during the forecast period.
Restraints
The entire process involved in manufacturing of flexible display it's very complex as compared to the manufacturing process of rigid displays. This imposes an additional cost on the manufacturing process which increases the cost of the electronic devices. The designing process of the rigid displays is much simpler which makes it superior as compared to the flexible displays. The response to stimuli offered by the rigid display this is very satisfying as compared to the flexible display. The extreme climatic conditions hamper the quality and resolution of the flexible displays very easily which proves to be a major restraining factor for the growth of the market. The level of protection which is provided for the internal circuit and motherboard of the electronic device is quite less which reduces the life of the gadget. These multiple reasons prove to be the restraining factors for the growth of the market during the forecast period.
Opportunities
The facility of insurance coverage which has been introduced for the electronic devices in order to provide a better aftermarket service to the consumers has proved to be a major opportunity for the growth of the market. The increasing use of flexible displays by the manufacturers of smart band it's proved to be a great opportunity for the growth of the market of flexible display. The high demand of watches and smart phones experienced as a result of rapid digitalization in the field of education has proved to be a great opportunity for the growth of the flexible display market during the forecast period. The introduction of smart education system into the society has increased the demand for better display quality and resolution. These multiple reasons proved to be great opportunities for the growth of the flexible display market during the forecast period.
Related Reports
Get Our Latest Press Releases@ https://www.precedenceresearch.com/press-releases
Challenges
The revenue return of the flexible display mainly depends on the bulk order which is received by the manufacturer. Flexible displays cannot bear extreme climatic conditions which hampers the functioning and response provided by the device. The cost of the raw material of flexible displays proves to be a great challenge for the growth of the market. These multiple reasons prove to be the challenges during the growth phase of the flexible display market.
Recent Developments
In January 2017 – a wallpaper TV was introduced by LG, that included a flexible screen which was 4 mm deep. This could be suspended on the wall with the help of magnets. it was a super slim model which was bendable.
Market Segmentation
By Technology
By Material
By Type
Curved Display
Bendable and Foldable Display
Rollable Display
By Panel Size
Up to 6"
Above 50"
20-50"
6-20"
By Application
Wearable (Excluding Smartwatches)
TV
Smartphone
Smartwatch
E-reader
Automotive & Transportation
By Industry
Automotive and Transportation
Aerospace and Defense
Media and Entertainment
Consumer Electronics
IT and Telecommunication
Sports and Fashion
By Geography
North America
Europe
Asia-Pacific
Latin America
Middle East & Africa (MEA)
Immediate Delivery Available | Buy this Premium Research Report@ https://www.precedenceresearch.com/checkout/1976
You can place an order or ask any questions, please feel free to contact at [email protected] | +1 9197 992 333
About Us
Precedence Research is a worldwide market research and consulting organization. We give unmatched nature of offering to our customers present all around the globe across industry verticals. Precedence Research has expertise in giving deep-dive market insight along with market intelligence to our customers spread crosswise over various undertakings. We are obliged to serve our different client base present over the enterprises of medicinal services, healthcare, innovation, next-gen technologies, semi-conductors, chemicals, automotive, and aerospace & defense, among different ventures present globally.
For Latest Update Follow Us:
https://www.linkedin.com/company/precedence-research/
https://www.facebook.com/precedenceresearch/
https://twitter.com/Precedence_R
oToBrite Unveils Automotive-Grade 5MP/8MP Camera Modules to Meet Soaring Demand for High-Level ADAS/Autonomous Driving
HSINCHU, Sept. 28, 2023 /PRNewswire/ — oToBrite, a prominent provider of Vision-AI ADAS/AD solutions, has unveiled its latest offering in response to the surging demand for high-level Advanced Driver Assistance Systems (ADAS) and Autonomous Driving (AD) applications. With the need for enhanced perception technology, particularly for heavy commercial vehicles, as the heavier the vehicle is, the longer it will take to stop, oToBrite has successfully introduced automotive-grade 5MP/8MP camera modules. These cutting-edge modules can improve the visibility and perception capabilities of ADAS/AD systems, and have been adopted among clients in North America.
oToBrite has been a leading tier-1 player for vision-AI ADAS/AD solution in the automotive industry, leveraging its full-stack capabilities spanning camera module production technology, edge-computing system design, and vision-AI model development. The company offers flexible business model and comprehensive vision-AI technology stack, enabling it to provide system solutions, camera modules, or AI IP licensing to cater to diverse customer requirements. Its automotive-grade camera modules have already garnered the trust of prominent clients and entered the supply chain of car OEMs such as Luxgen, SONY, Toyota, XPENG, etc. with over 1 million automotive-grade camera modules deployed. To learn more about oToBrite's offerings, please visit https://www.otobrite.com/en.
The newly launched 5MP/8MP camera modules from oToBrite feature high-sensitivity CMOS sensors. oToBrite's 5MP camera module series is equipped with Sony IMX490 Sensor and has multiple viewing angles, including 30°, 60°, 90°, and 120°. The 8MP camera module series employs Sony IMX728 sensors and also offers various viewing angles. Both 5MP and 8MP series are equipped with GMSL2 interfaces and tested with waterproof and dustproof standards of IP67/69K. They can operate within a temperature range of -40°C to +85°C, ensuring the utmost reliability and stability for customers.
oToBrite holds a distinct advantage in camera production technology, with 1K class clean room factory certified with IATF16949 and endorsed by several leading car OEMs. Additionally, the in-house developed 5/6-axis active alignment machine for high-end camera modules exhibits the capability to manufacture over 60 SKU variants of camera modules.
About oToBrite
oToBrite is a leading vison-AI ADAS/AD solutions provider. Based in Hsinchu Science Park, oToBrite has IATF 16949 certified clean room factory and several years of experience as an automotive Tier-1 supplier. Through comprehensive research and development capabilities, oToBrite provides vision-AI algorithm, ECU/domain controller and automotive-grade/special purpose camera products.
Photo – https://mma.prnewswire.com/media/2221257/oToBrite_Automotive_grade_5MP8MP.jpg
View original content:https://www.prnewswire.co.uk/news-releases/otobrite-unveils-automotive-grade-5mp8mp-camera-modules-to-meet-soaring-demand-for-high-level-adasautonomous-driving-301939956.html
CFOs are the change agents driving shift to servitized business model to harness growth, cost efficiency and technology opportunities
Time for action is now: Customer expectations for servitization already exist (61%) and projected to increase (70%) in the next three years, in terms of value, service and reliability.
LONDON, Sept. 28, 2023 /PRNewswire/ — IFS, the global cloud enterprise software company, has shared the latest findings of its recent global research polling 2,000 senior decision-makers – VP and above – in France, Germany, Japan, Nordics, UK, USA and the UAE –across Manufacturing, Services, Telecoms, Energy & Resources, Construction & Engineering, and A&D industries. In its last overview, the company highlighted the overarching dependence on AI to create and accelerate business value from servitization.  
The survey points to specific executives as drivers or enablers to successfully make the shift and align the organization behind it. The survey highlights the CFO (21%) behind the CEO (35%) as the guardian of business resilience, financial health and as the purse string holder for technology investments. CFOs recognize that the move to servitization is essential in providing predictability in revenues, expenditure and third-party costs, and are aligning themselves to becoming stewards of identifying cross-business strategies that will build competitive advantage. 
At the heart of the business case for servitization, the CFO is focused on three elements: Faster and more cost-efficient time to market, visibility and predictability into revenues and CAPEX, accelerating organization alignment across people, processes and technology, to support not only the processes but also to provide the insights required to assess and optimize as they go within their business and intra-company.  
CFOs exhibit the greatest urgency in implementing a servitized model out of all C-level respondents (CIOs, CHROs and CTOs), with (32%) prioritizing adoption within the next 18 months. This implies change is not only necessary but will deliver business benefits, with progress and success measured by a fully servitized P&L. CFOs are also most likely (26%) to say their role is the one driving the shift within the organization, as they understand how technology capabilities will reach deep into their organization and enable it to become more technology-driven with regards to the design and delivery of products and services: Product R&D (34%) and service R&D (32%) are two areas CFOs prioritized when looking at servitized business processes.  
The priority outcome CFOs want to achieve from servitization is enhancing insight-driven decision-making capabilities (32%) – pointing to why AI is their #1 essential technology choice (49%) as it will fuel faster, more accurate and more data-led inputs into the strategic choices that impact the bottom line.   
Technology as a revenue growth enhancer makes wise fiscal sense. For example, EAM is a must-have for servitization success (34%)– assets that are predictively maintained will last longer, have less downtime and result in less expenditure. FSM (40%) maximizes profitable revenue streams and enables significant cost savings across the service lifecycle through optimized workforce scheduling and planning. Similarly, the wealth of connected asset data that can be harnessed through the application of automation, ML, IoT, end-to-end connectivity – all CFO "must-implements" – explain why CFOs have emerged as such strong proponents of technology and servitization.   
The CFO's confidence about the organizational readiness is high at (42%) indicating they have the processes mapped out and are progressing well in their move to servitization, but still have either organizational impacts on people and processes (23%) or technology needs to overcome, making the CHRO the second most significant executive to drive and enable the transformation. 
CHROs are more cautious about servitization readiness within the organization, being acutely aware that shifting from a product-focused to a service-focused mindset within their organizations is a barrier to implementing servitization (42%). However, CHROs are in alignment with the CFO on customer expectations for servitization, which are high now, and are set to increase. They also agree that technology is essential to success, with AI their top pick (50%).  
Alex Rumble, SVP of Corporate Communications, Product Marketing, AR, & CI at IFS, commented: "The CFO's remit has evolved hugely in the last decade away from financial reporting to understanding and influencing business-wide strategies and aiding transformation." Rumble added, "Our research illustrates this very well and that CFOs not only understand the positive impact of aligning a business behind the customer's expectations, but also the much broader business value of doing so." She concluded: "Today CFOs are visionary advocates of change and digital transformation and will help build predictability in revenue and costs, ultimately the holy grail for CFOs but still technology dependent." 
Together, CFOs and CHROs can partner to be a powerful force to not only accelerate servitization, but also ensure that the whole organization is primed for success. CHROs must act as a secondary catalyst to mobilize cultural change, acting as a bridge between the business and ensuring the communication and implementation of the overall strategy is not siloed to the C-level. 
About IFS 
IFS develops and delivers cloud enterprise software for companies around the world who manufacture and distribute goods, build, and maintain assets, and manage service-focused operations. Within our single platform, our industry specific products are innately connected to a single data model and use embedded digital innovation so that our customers can be their best when it really matters to their customers – at the Moment of Service™. The industry expertise of our people and of our growing ecosystem, together with a commitment to deliver value at every single step, has made IFS a recognized leader and the most recommended supplier in our sector. Our team of over 5,500 employees every day live our values of agility, trustworthiness, and collaboration in how we support our thousands of customers. Learn more about how our enterprise software solutions can help your business today at ifs.com. 
CONTACT: IFS Press Contacts: EUROPE / MEA / APJ: Adam Gillbe IFS, Director of Corporate & Executive Communications Email: [email protected] Phone: +44 7775 114 856
NORTH AMERICA / LATAM: Mairi Morgan IFS, Director of Corporate & Executive Communications Email: [email protected] Phone: +1 520 396 2155
The following files are available for download:
https://news.cision.com/ifs/i/cfos-are-the-change-agents-driving-shift-to-servitized-business-model-to-harness-growth–cost-effici,c3220272
CFOs are the change agents driving shift to servitized business model to harness growth, cost efficiency and technology opportunities
 
View original content:https://www.prnewswire.co.uk/news-releases/cfos-are-the-change-agents-driving-shift-to-servitized-business-model-to-harness-growth-cost-efficiency-and-technology-opportunities-301941481.html
Breaking language barriers: thebigword's AI workflows enhance translation delivery on time to 99% while significantly reducing turnaround times
LEEDS, England, Sept. 27, 2023 /PRNewswire/ — thebigword, a leading provider of language solutions, is proud to announce an improvement in its on-time delivery performance and significant reduction of turnaround times. This has been made possible through a strategic fusion of human expertise and state-of-the-art AI and Machine Translation technologies.
 
This exciting achievement reaffirms the company's commitment to delivering accurate and timely translations to clients worldwide, setting new industry standards.
With the ever-growing demand for rapid and high-quality translations, thebigword has taken numerous steps, including the ability to create and implement self-driving AI workflows, to ensure their clients are receiving the highest quality of translation and customer service.
Through the enhanced integration of AI and Machine Translation solutions into its translation workflows, thebigword has achieved remarkable outcomes, such as the significant reduction in turnaround times and this notable increase in on-time deliveries. With 99% of translation projects across various languages and industries delivered on time to clients, with shorter turnaround times.
thebigword's collaborative approach leverages the strengths of their human translators with the power of AI technologies to allow for faster translation turnaround times, while maintaining the highest levels of accuracy. Their technology platform also enables quick resource allocation, ensuring that translation projects are assigned, executed and delivered quickly to reduce delivery times.
Joshua Gould, Chief Executive Officer of thebigword Group said: "thebigword is delivering a very human service with the utilisation of next-generation AI. These innovations represent an ongoing effort to enhance the overall client experience through our ability to deliver accurate, high-speed translations at an affordable price for any budget."
Mark Daley, Global Managing Director of thebigword Translation said: "thebigword understands how crucial timely delivery of accurate translations are for the global success of our clients, and some of the latest technological integrations we have enabled have allowed us to achieve an impressive 99% as well as faster turnaround times."
As thebigword celebrates this achievement, it looks forward to building on its success with other translation milestones and continuing to provide high-quality translation services – further enabling its mission of eradicating the final barrier of global communication.
About thebigword:
As one of the largest language service providers globally, thebigword utilises the greatest minds and boundary-shattering technology to deliver phenomenal quality at scale to both our clients and linguist network.
thebigword provides the best translation, interpretation, localisation and language technology solutions for businesses, the public sector and individuals – handling up to 50,000 worldwide assignments every day.
For more information about thebigword's innovative AI and Machine Translation solutions, please visit www.thebigword.com.
Logo – https://mma.prnewswire.com/media/2161341/4179684/thebigword_logo.jpg
For media enquiries, please contact:Lauren HockneyGlobal Head of [email protected]
View original content:https://www.prnewswire.co.uk/news-releases/breaking-language-barriers-thebigwords-ai-workflows-enhance-translation-delivery-on-time-to-99-while-significantly-reducing-turnaround-times-301940669.html