Artificial Intelligence (AI) Robots Size to Worth Around USD 54.3 Bn by 2030
Los Angeles, Sept. 06, 2022 (GLOBE NEWSWIRE) — The global artificial intelligence (AI) robots market size was valued at USD 9.2 billion in 2021. AI and robotics are different and are used for numerous purposes. The growing acceptance of AI robots in the sector of health care as it supports starting a good link between patients and healthcare professionals. Different industries like healthcare, manufacturing, construction and automobile are progressively accepting industrial automation. AI robots are purposely used to transfer materials in the manufacturing and production industry and also carry several automated responsibilities. An important quantity of robots is used for the submission of material management in numerous industries. These creativities inspire businesses to transmit new expansions to support the delivery of the latest machinery and robotics around different areas.
Key Takeaways:
North America has noted 32.5% market share in 2021.
Asia Pacific and Europe held 28% & 24.5% revenue share respectively in 2021.
Industrial robot type segment reported for 61.35% global market share in 2021 due to improved productivity because of analytical maintenance.
Get the Free Sample Copy of Report@ https://www.precedenceresearch.com/sample/1999
The main reason for such implementation is to get good quality and protect employees from damages that happen due to faulty machines. Robotic structures with artificial intelligence allow industry segments to develop extra flexibility in their actions. Artificial intelligence is the proficiency that replicates intelligent behavior acquires and accomplishes operations or processes. The acceptance of AI robots has improved owing to their extremely constant and accurate performance. So, robots are connected with the technology of artificial intelligence which supports in assisting daily jobs and industries jobs, thus reducing human interference.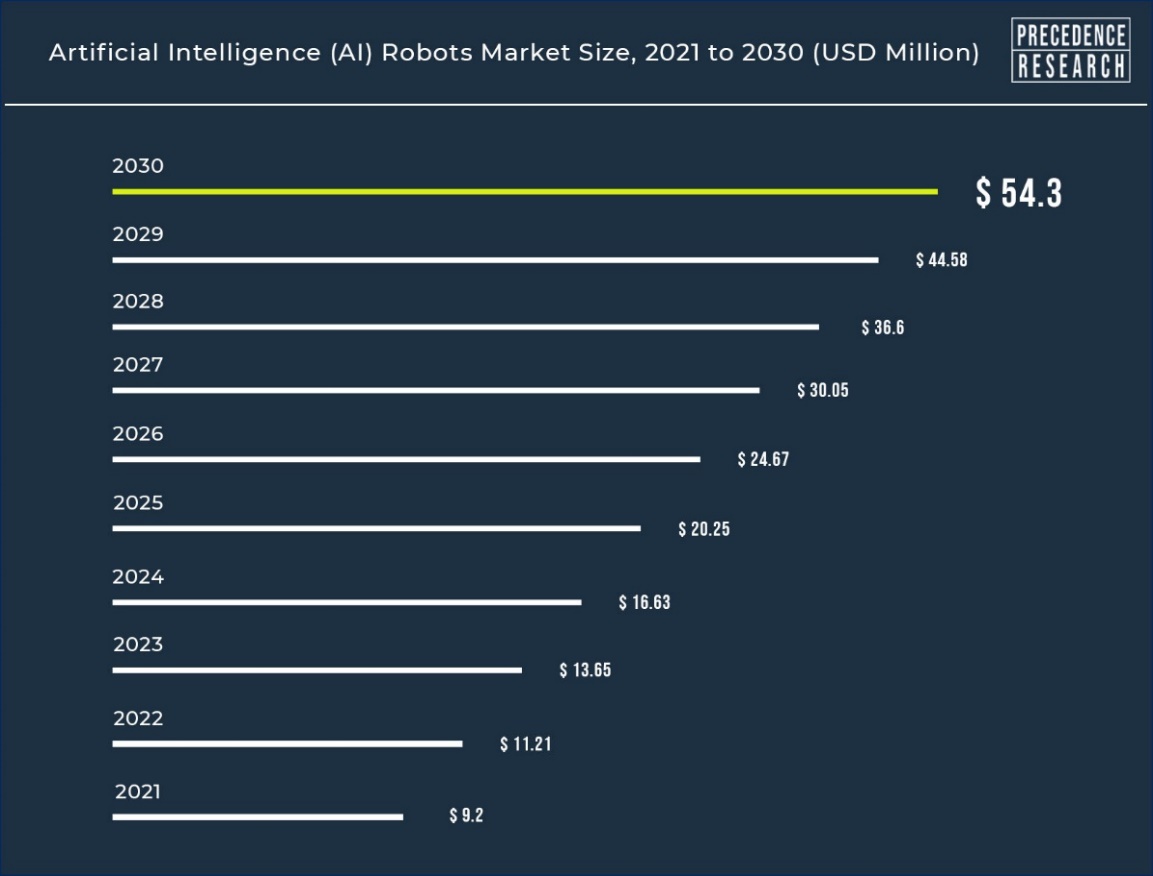 Report Highlights:
Robots are becoming smarter and more self-directed though, they have an absence of ethical perception. Ethics are socially definite, developing continuously, and perpetually discussed, emerging a proper AI scheme is the most important challenge met by companies in the market of AI robots. The immense difficulty of decent perception is that there are no worldwide established human ethics.
Development in AI technology is being accepted in different industries outside unbiassed the technical and automotive industries. To improve productivity and efficiency health care, retail, and manufacturing are some segments that are initiated to use of AI robots.
AI robots are becoming extra customized and personalized with the support of machine education or learning which means that are intended for better appreciation and response to the desires of specific users.
AI robots are initiated the usage diversity of cameras and sensors in the direction to collect information and data. This development is expected to keep advancing in AI technology.
Normal language dispensation is an important part of AI study and is an accomplishment improved every time. A variation in settings of this better capacity to appreciate normal language will make extra beneficial AI robots.
Ask here for more customization study@ https://www.precedenceresearch.com/customization/1999
Scope of the Report
| | |
| --- | --- |
| Report Attributes | Details |
| Market Size in 2021 | USD 9.2 Billion |
| Revenue Forecast by 2030 | USD 54.3 Billion |
| CAGR | 21.81% from 2022 to 2030 |
| Base Year | 2021 |
| Forecast Year | 2022 to 2030 |
| Key Players | ABB, AIBrain, Inc., Alphabet, Argo AI, LLC, Blue Frog Robotics & Buddy – Emotional Robot, Brain Corporation, CloudMinds Technology Inc., DataRobot, Inc., Fanuc, Hanson Robotics Ltd., Harman International Industries, IBM Corporation, Intel Corporation, International Business Machines Corporation, Kawasaki, Microsoft Corporation, Mitsubishi, Neurala, Inc., NVIDIA Corporation, Omron, Promobot, SoftBank Corp., UB Tech Robotics, Inc., Veo Robotics, Inc., Vicarious, Xilinx, Yaskawa |
Regional Snapshot
Service robots are used for defense and armed military purposes. Drones are approved for numerous commercial purposes like entertainment media, law enforcement, precision agriculture, surveys, and inspection. The growing demand for AI-combined expressed amenity robots, particularly for underwater and medical importance, is boosting the market growth of AI robots in North America. Due to the increasing usage of AI robots in the manufacturing industry, healthcare businesses, automotive, and retail, the worldwide market of artificial intelligence (AI) robots are expected to develop knowingly.
The high acceptance of these AI robots in APAC can be credited to the important growth of the information technology network and well-established and vigorous customer in China and neighboring nations. Product development and lunches are likely to propose profitable opportunities for key players in the upcoming years. China and Japan are expected to give high growth opportunities for providers of AI robots.
Market Dynamics
Drivers
Executing robotics skills and connecting industrial robots during the manufacturing procedures has assisted manufacturing industries and allowed human workforces to offer additional time to other challenging ventures. Robots support whole repetitive responsibilities additional speedily and constantly as compared to human beings. This has better excellence, shortened threats for connections with unsafe responsibilities, and dropped the general operating expenses. Robotics skills are derived as choices as labor charges increase. The development in the technology of artificial intelligence has created robots effective and highly well-organized in executing different responsibilities.
AI robots in many industries like automotive, healthcare, manufacturing, and others are directed to a rise in demand. AI robots can execute different tasks more successfully and professionally as compared to human beings. Different governments are devoted to the growth of AI Robots in numerous applications like disaster management, search, rescue, and military. Many enterprises are capitalizing on AI robots to upsurge their efficiency and productivity. Because of this AI, robots can accomplish several tasks like customer service, and data entry more successfully as compared to humans.
Restraints
AI robots are extremely methodical and progressive and need distinct training and expert specialists for the function of these robots in different places. The acceptance of new skills or technologies like AI robots, and cloud computing is nowadays fetching schmoozed. These Robot systems can be hacked or slashed and their capabilities can be unfavorably used. Evolve and Ozobot recommends Evo which is armed with Ozo-Chat computer software for global messaging amongst Evo robots. The global defense and military segment are in the progress of seeing AI robots as a dynamic portion of any fighting convoy. Though, the absence of appropriate proficiency amongst specialists or the shortage of expert specialists and inadequate worker training related to the employed and developments of AI robots may control the acceptance of these robots in different occupational areas.
Opportunities
The growing acceptance of technologies like robots, and cloud computing is nowadays becoming interactive. For example, Evolve & Ozobot suggest Evo which is prepared with the Ozo-Chat software database for global messaging amongst Evo robots. The worldwide defense & military segment has started seeing AI-constructed robots as an important portion of any armed military and navy. These interactive robots can probably be hacked and their capabilities can be unfavorably used.
Challenges
AI-combined robots are acquiring or gaining grip with a growing condition of public or social robots to interrelate with people to support others. Industries are progressively directing on emerging robots that are appropriate for the whole family and good for the execution of the aforementioned responsibilities. Subordinate robots are essential to execute different tasks connecting household safety, elderly support, patient care, and companionship.
Related Reports
Get Our Latest Press Releases@ https://www.precedenceresearch.com/press-releases
Recent Developments:
ABB launched novel SWIFTI™ and GoFa™ cobot relations, giving more rapidity and payloads, to garnish Single Arm YuMi® and YuMi® in the line-up of ABB's cobot in Feb 2021. The company's expansion in more-growing segments is enhanced by these cobots which include food, consumer goods, beverage, electronics, coordination, healthcare, and others, foremost to the increasing demand in numerous businesses for automation.
Jetson Nano™ 2GB Discoverer Kit is introduced into the market by NVIDIA in October 2020. The hand on projects is formed for the areas of intelligent IoT and robotics which are planned for learning and teaching AI.
CereProc and Hanson Robotics combined for an advanced AI venture, Sophia in May 2020. Using CereProc's musical TTS organization. This night starring Jimmy Fallon Show, Sophia is the robot singing a duet path with a human. This collective combined AI project spring up Sophia into an improved AI-based artificial voice. This can transmit more amusing acts and is dramatic in actuality and also allows stating excitement, humor, uncertainty, and the odd feisty comment.
Market Segmentation
By Offering
Software

Machine Learning
Computer Vision
Context Recognition
Natural Language Processing (NLP)

Hardware
Services
By Robot Type
Service Robots
Industrial Robots
Others
By Technology
Machine Learning
Computer Vision
Context Awareness
Natural Language Processing
By Deployment Mode
By Application
Law Enforcement
Military & Defense

Border Security
Search and Rescue Operations
Combat Operations
Spying

Public Relations

Reception Robots
Tour Guiding Robots

Personal Assistance and Care

Elderly Assistance Robots
Companion Robots

Education and Entertainment
Research and Space exploration
Industrial
Agriculture
Healthcare Assistants
Stock Management
Others
By Geography
North America
Europe
Asia-Pacific
Latin America
Middle East & Africa (MEA)
Immediate Delivery Available | Buy This Premium Research Report@ https://www.precedenceresearch.com/checkout/1999
You can place an order or ask any questions, please feel free to contact at [email protected] | +1 9197 992 333
About Us
Precedence Research is a worldwide market research and consulting organization. We give unmatched nature of offering to our customers present all around the globe across industry verticals. Precedence Research has expertise in giving deep-dive market insight along with market intelligence to our customers spread crosswise over various undertakings. We are obliged to serve our different client base present over the enterprises of medicinal services, healthcare, innovation, next-gen technologies, semi-conductors, chemicals, automotive, and aerospace & defense, among different ventures present globally.
For Latest Update Follow Us:
https://www.linkedin.com/company/precedence-research/
https://www.facebook.com/precedenceresearch/
https://twitter.com/Precedence_R
Infosys collaborates with Microsoft to accelerate and democratize industry-wide adoption of generative AI
Both companies will help enterprises take an AI-first approach to scale next-generation AI solutions to improve operational efficiencies, drive revenue growth, and enable business transformation
BENGALURU, India, Sept. 26, 2023 /PRNewswire/ — Infosys (NSE: INFY), (BSE: INFY), (NYSE: INFY), a global leader in next-generation digital services and consulting, today announced that it is collaborating with Microsoft to jointly develop industry leading solutions that leverage Infosys Topaz, Azure OpenAI Service and Azure Cognitive Services. Both organizations are bringing together their respective artificial intelligence (AI) capabilities to enhance enterprise functions with AI-enabled solutions across multiple industries. The integrated solutions will accelerate rapid democratization of data and intelligence that will help businesses increase productivity and drive new revenue growth.
Generative AI has opened new avenues of AI applications and key enterprise functions across industries, and Infosys is providing services, frameworks, solutions, and platforms in multiple application areas, such as semantic search, document summarization, contact center transformation, AI-augmented software development lifecycle (SDLC) and marketing content creation. For example, Infosys helped a leading financial services company implement an AI-based solution to generate document summaries and provide a semantic search capability using generative AI. This resulted in automated organization of documents, which significantly reduced efforts and improved productivity of their financial advisors.
Through the collaboration with Microsoft, Infosys Topaz is using Azure OpenAI Service and Azure Cognitive Services to augment its capabilities, in order to help enterprise customers transition from digital to AI solutions. The integrated solutions will boost customers' operational efficiency, decrease turn-around-time, future-proof investments, and open new business models.
Balakrishna D. R. (Bali), Executive Vice President and Global Head – AI and Automation, Application Development & Maintenance, Infosys, said, "Infosys Topaz is empowering businesses with improved operational efficiencies and reduced time-to-market for launching new products and services. It converges the power of Infosys Cobalt and data analytics to AI-power business and deliver cognitive solutions and intuitive experiences that revitalize growth. Through our strategic collaboration with Microsoft, we will continue to lead the generative AI revolution, helping businesses amplify human potential and navigate their next towards becoming AI-first enterprises."
Nicole Dezen, Chief Partner Officer, Microsoft Corp, said, "We're pleased to expand our collaboration with Infosys to deliver innovative solutions, utilizing Azure OpenAI Service and Azure Cognitive Services, that will help customers develop new business models, and realize new revenue streams. By harnessing the power of generative AI, Infosys will help customers accelerate growth and innovation."
About Infosys
Infosys is a global leader in next-generation digital services and consulting. Over 300,000 of our people work to amplify human potential and create the next opportunity for people, businesses and communities. We enable clients in more than 56 countries to navigate their digital transformation. With over four decades of experience in managing the systems and workings of global enterprises, we expertly steer clients, as they navigate their digital transformation powered by cloud and AI. We enable them with an AI-first core, empower the business with agile digital at scale and drive continuous improvement with always-on learning through the transfer of digital skills, expertise, and ideas from our innovation ecosystem. We are deeply committed to being a well-governed, environmentally sustainable organization where diverse talent thrives in an inclusive workplace.
Visit www.infosys.com to see how Infosys (NSE, BSE, NYSE: INFY) can help your enterprise navigate your next.
Safe Harbor
Certain statements in this release concerning our future growth prospects, or our future financial or operating performance are forward-looking statements intended to qualify for the 'safe harbor' under the Private Securities Litigation Reform Act of 1995, which involve a number of risks and uncertainties that could cause actual results or outcomes to differ materially from those in such forward-looking statements. The risks and uncertainties relating to these statements include, but are not limited to, risks and uncertainties regarding the execution of our business strategy, our ability to attract and retain personnel, our transition to hybrid work model, economic uncertainties, technological innovations such as Generative AI, the complex and evolving regulatory landscape including immigration regulation changes, our ESG vision, our capital allocation policy and expectations concerning our market position, future operations, margins, profitability, liquidity, capital resources, and our corporate actions including acquisitions. Important factors that may cause actual results or outcomes to differ from those implied by the forward-looking statements are discussed in more detail in our US Securities and Exchange Commission filings including our Annual Report on Form 20-F for the fiscal year ended March 31, 2023. These filings are available at www.sec.gov. Infosys may, from time to time, make additional written and oral forward-looking statements, including statements contained in the Company's filings with the Securities and Exchange Commission and our reports to shareholders. The Company does not undertake to update any forward-looking statements that may be made from time to time by or on behalf of the Company unless it is required by law.
 
Logo: https://mma.prnewswire.com/media/633365/Infosys_Logo.jpg
 
 
View original content:https://www.prnewswire.co.uk/news-releases/infosys-collaborates-with-microsoft-to-accelerate-and-democratize-industry-wide-adoption-of-generative-ai-301938706.html
Vena Closes First Half of 2023 With Record Revenue, Customer Base and Partnerships
CPM leader notches impressive year-over-year revenue growth alongside continued recognition of platform capabilities  
TORONTO, Sept. 26, 2023 /PRNewswire/ — Vena, the Intelligent Complete Planning platform loved by finance and trusted by business, entered the second half of 2023  with considerable customer momentum and revenue growth following fiscal H1. The company welcomed more than 200 new customer wins and saw continued success across Vena's Services and Solutions Partner Ecosystem.  
Vena's award-winning cloud corporate performance management (CPM) software empowers leading companies and organizations worldwide, such as Nike, Kansas City Chiefs, Coca-Cola Consolidated, WWF-Canada and over 1,600 more, to plan for anything and succeed through today's uncertainty. For Metro Supply Chain Group, Vena has helped them run multliple scenarios and use multiple forecasts to aid decision making. "Operational metrics are important, but the story is not complete until you can see how they impact your costs, revenue and EBITDA margins. Vena is our way of bringing that all together and measuring the health of our business," explains Paolo Mari, VP of Business Analytics and Commercial Management at Metro Supply Chain Group. 
According to Vena CEO Hunter Madeley, Vena's growth has been fueled by the ever-increasing need for customers to derive insights from internal and external data and take purposeful action.  
"Our customers are leveraging Vena to navigate their best path through what continues to be highly variable market conditions for most organizations. The Vena Insights product, which puts the power of AI in the hands of our customers, has seen tremendous uptake this year as finance and operations teams become stronger strategic partners for their organizations. Whether leaning on the experience and knowledge of our service and support teams, or the strength of our expansive Partner ecosystem, our customers are taking full advantage of the investments we continue to make in our platform. We remain grateful to the entire Vena community for their continued support, and we look forward to serving record numbers of customers and partners in 2023," says Madeley. 
The company, which offers an industry-leading corporate performance management platform that helps organizations plan for anything, also hosted another successful Excelerate Summit in May. The yearly global virtual summit and new this year, a local in-person event in the UK, featured 40+ speakers and drew more than 3,000 finance and business leaders from around the world. Vena previewed expanded solution offerings, including new Partner-built preconfigured solutions (PCS), at Excelerate Summit 2023. The annual conference saw record Partner participation rates with an increase of 80% over 2022 across Partner speakers, attendees and exhibitors. 
Growth in Vena's revenue and customer base has been accompanied by numerous industry accolades, including:  
Recognized for the fourth consecutive year with a TrustRadius Tech Cares award for going above and beyond to support employees and communities across five areas of focus ( Volunteerism; Robust diversity, equity and inclusion programs; Charitable donations and fundraising; Workplace culture, including support for remote and in-office employees;  Demonstrable support for environmental sustainability). Earning multiple 2023 TrustRadius Top Rated Awards in four categories: Corporate Performance Management (CPM); Budgeting and Forecasting; Financial Close;  Cash Flow Management. Recognition as a Leader in the 2023 Nucleus Research CPM Technology Value Matrix, which acknowledged Vena's enablement of  "customers to make data-driven decisions, uncover actionable insights and drive growth across their business." About Vena Vena is the only Intelligent Platform for Complete Planning that's natively integrated with Microsoft 365, empowering teams to plan the way they think. Vena streamlines financial and operational planning, reporting and analysis processes, and provides advanced analytics and flexible modeling capabilities to help business, finance and operations leaders make informed business decisions. With Vena, you can leverage the power of Microsoft Excel and AI-powered insights in a unified, cloud-based platform that enhances collaboration, scalability and security. Over 1,600 of the world's leading companies rely on Vena to power their planning. For more information, visit venasolutions.com.  
MEDIA CONTACT Jonathan Paul Senior Director, Content & Communications, Vena [email protected] 
Logo – https://mma.prnewswire.com/media/1337162/Vena_Logo.jpg
View original content:https://www.prnewswire.co.uk/news-releases/vena-closes-first-half-of-2023-with-record-revenue-customer-base-and-partnerships-301938625.html
EdrawMind V10.9.0 's New Features Revolutionizing the Way Users Visualize Ideas
VANCOUVER, BC, Sept. 26, 2023 /PRNewswire/ — Wondershare Technology, a globally recognized software company, is excited to announce the release of EdrawMind V10.9.0, the latest version of their leading mind mapping and brainstorming tool. This update introduces a range of features aimed at revolutionizing the way users visualize ideas, enhancing efficiency, and fostering creativity. By harnessing cutting-edge technology, this new version seeks to cater to the diverse needs of professionals, students, and anyone looking to transform their thoughts into organized, dynamic, and visually appealing diagrams.
Integration with OpenAI: This feature enables seamless interaction with ChatGPT, integrating powerful AI capabilities into EdrawMind, thereby improving user experience through intelligent suggestions and assistance.Intelligent Document Parsing: EdrawMind can now intelligently analyze and process documents, extracting key information and assisting users in creating mind maps based on existing documents.PPT Generation: A valuable addition for users seeking to convert their mind maps into presentation slides efficiently.Inspiration Space: This dedicated space within the software encourages brainstorming and idea collation, thus streamlining the creative process.Exploration of Audio and Video: EdrawMind V 10.9.0's new capability to handle audio and video content allows users to enrich their mind maps with multimedia elements.Versatile and Vertical Mind Map Posters: This feature provides users with myriad options for creating and customizing mind map posters, both in terms of layout and design."In our relentless pursuit of enhancing user experiences, we are thrilled to introduce the integration of OpenAI into EdrawMind. This transformative update brings AI-driven features like intelligent file parsing and effortless PPT generation directly to our users, empowering them to achieve new levels of productivity and creativity. But our commitment doesn't end here. We envision a future where our AI continually evolves, learns, and adapts to better serve and inspire our users on their creative journeys." – Iris Liu, Head of Wondershare BrandingWondershare
Compatibility and Price 
Wondershare EdrawMind is compatible with Windows, Mac, Android and iOS and pricing starts at $39 for a six-month subscription. For free trials and downloads, please visit our official website or follow us on YouTube, Facebook, Twitter, and Instagram to learn more about EdrawMind.  Additionally, with an EdrawMind membership, you can enjoy cross-platform benefits across all EdrawMind platforms.
About Wondershare
Wondershare is globally recognized as a software company that is committed to delivering innovative solutions for personal and professional use. As a leader in creativity and productivity products, Wondershare has received prestigious awards from organizations such as The Shorty Awards, G2, and GetApp. At Wondershare, the mission is to empower individuals to pursue their passions and build a more creative world. With over 100 million users across 150 countries, users can access a wide range of software solutions for video editing, PDF editing, data recovery, diagram and graphics, and more. Together, Wondershare strives to provide high-quality, user-friendly software that enables individuals and businesses to bring their creative ideas to life. 
Photo – https://mma.prnewswire.com/media/2219737/MicrosoftTeams_image__1.jpg
Logo – https://mma.prnewswire.com/media/1274391/wondershare_LOGO.jpg
View original content:https://www.prnewswire.co.uk/news-releases/edrawmind-v10-9-0-s-new-features-revolutionizing-the-way-users-visualize-ideas-301937753.html