<!– Name:DistributionId Value:8828269 –> <!– Name:EnableQuoteCarouselOnPnr Value:False –> <!– Name:IcbCode Value:5700 –> <!– Name:CustomerId Value:500115824 –> <!– Name:HasMediaSnippet Value:false –> <!– Name:AnalyticsTrackingId Value:7024938a-a934-41b5-8f9c-3181160721c4 –>
Miami, FL, April 28, 2023 (GLOBE NEWSWIRE) — MSG SOLUTIONS, a Miami-based company pioneering modern technology, announces the launch of Vacabee – the world's first Web3 travel club with AI features, aimed at offering an innovative and unparalleled travel experience with the ultimate ownership benefit via a non-fungible digital membership.
With Vacabee, MSG SOLUTIONS aims to make travel accessible to everyone while staying at the forefront of technology. The project's focus on accessibility will attract a wide range of customers, regardless of their age or technological expertise.
Vacabee offers access to exclusive member-only travel deals, personalized travel itineraries, and an AI travel coach to help users make the most of their experiences.
"Our mission is to offer an unmatched travel and service experience to our members by combining several modern technologies," said Vacabee CEO, Miodrag O. Markovic. "With Vacabee, we are staying true to our commitment to innovation and accessibility."
MSG SOLUTIONS plans to include the full spectrum of blockchain features in the future, further demonstrating their commitment to staying at the forefront of technology.
"We believe that Vacabee is a step in the right direction for the travel as well as for the digital membership industry and serves as a vital alternative to the traditional NFT and play-to-earn use case value proposition" said Mr. Markovic. "We are excited to see how our customers will respond to this new and innovative approach to travel."
With its cutting-edge technology and commitment to accessibility, Vacabee is poised to become a leader in the travel industry, setting a new standard for innovation and personalized travel experiences.
Experience the Future of Travel with Vacabee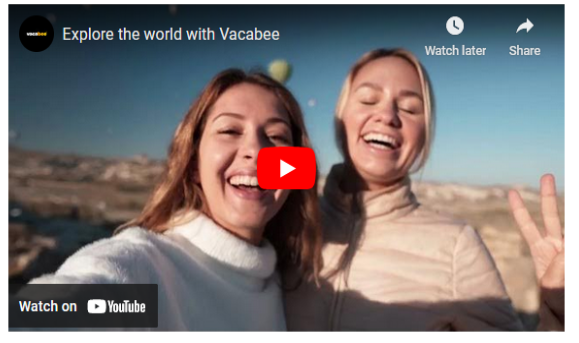 For the full press kit, including images, please click here.
https://drive.google.com/drive/folders/1ZXKn9UsOhiX7rB083uRx_l8RXj8n7wBo
###
About Vacabee
MSG SOLUTIONS, founded in Miami in 2015, is a pioneering technology company committed to innovation and accessibility. With the launch of Vacabee, the world's first Web3 digital travel club membership, MSG SOLUTIONS aims to make travel accessible to everyone while offering an unmatched travel and service experience with ownership and earning benefits. For more information, please visit https://vacabee.com/
Twitter | Facebook | Instagram | TikTok | YouTube