Tokyo, Jan. 17, 2023 (GLOBE NEWSWIRE) — The smart factory market size will reach at USD 142.09 billion in 2023. A variety of fully integrated automation systems for manufacturing facilities are applied in a "smart factory." It is a fully networked and computerized production plant that makes various items using smart technologies. One of the most significant results of Industry 4.0, often known as the fourth industrial revolution, is the smart factory concept.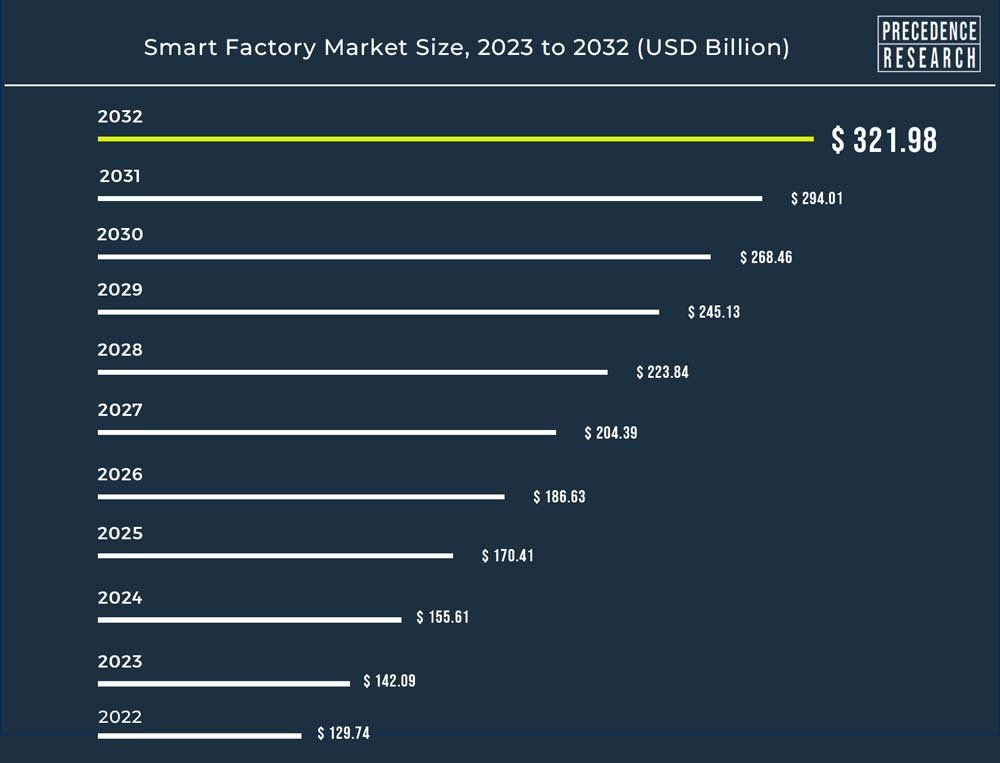 Smart manufacturing refers to the use of Technology by firms that operate autonomously and can self-correct and self-learn. This Technology includes artificial intelligence (AI), robotics, the internet of things (IoT), analytics, and big data. Visibility, connectivity, and autonomy define the smart factory.
One of the main elements fostering an optimistic view for market growth is the rapid digitalization across industries and the rising demand for industrial automation. A further factor driving market expansion is the extensive use of manufacturing execution systems (MES) and sophisticated data models for process-specific operation. Along these lines, the market is expanding due to the rising use of reconditioned industrial robots and radio frequency identification (RFID) systems.
Get the sample copy of this [email protected] https://www.precedenceresearch.com/sample/2533
Market Growth
One of the primary elements driving a positive outlook for market growth is the rapid digitization across industries and the growing need for industrial automation. Additionally, the increased use of enhanced data models for process-specific functioning and manufacturing execution systems (MES) is boosting market expansion. Accordingly, the market is expanding due to the rising use of reconditioned industrial robots and radio frequency identification (RFID) systems.
Further growth-promoting technical developments include the fusion of linked devices with cloud computing, artificial intelligence (AI), and the Internet of Things (IoT). These cutting-edge techniques support automated material handling, product testing, and electronic and mechanical assembly. Additionally, force sensors are used in smart factories to collect data for statistical process control (SPC) systems, check component insertion, and maintain constant force during buffing, polishing, and deburring.
Regional Analysis
The Asia-Pacific is expected to acquire the largest market share throughout the projection period. China has the quickest rate of population growth and industrial production, and these elements propel the nation's automation market forward. Investments are being planned to improve growth quality, manage environmental issues, and lessen overcapacity. Over the past few years, the production of automobiles in Germany has dramatically increased globally.
Additionally, the market under study will likely be primarily driven by sustainability in the industrial sector. The nation plays a significant role in the production and consumption of automation equipment in Europe. Third, in terms of size, is North America. Due to factory automation's early adoption, the United States represents a significant market for suppliers of smart factory solutions. Aside from that, the country has one of the biggest auto markets in the world and is home to over 13 key vehicle manufacturers. The nation's manufacturing sector has relied on the production of cars as one of its many revenue streams.
Report Segmentations
By Product
In fast-moving conveyor systems, sensors are typically employed to count how many products pass through a specific stage. The sensors are crucial for establishing the product's precise relative placement when autonomous robots perform an activity on the subject, such as welding in automobiles.
By Technology
PLM has changed how valuable data is in the manufacturing industry and provides a significant return on investment (ROI). When all the information was at their fingertips, manufacturing or industrial firm employees discovered they were more effective.
By End-User
The global market by end-user industry is segmented into the automotive, semiconductors, oil and gas, pharmaceutical, chemical and petrochemical, aerospace and defense, food and beverage, mining, and other end-user sectors. Oil and gas industry acquired the largest market share during the past year.
Safety and dependability are constantly in demand in procedures used in the oil and gas industry. The sector's supply chain generates a significant requirement for automation, industry knowledge, and a vast partner network. In other instances, firms in the oil and gas business are also seriously concerned about security. Governments in nations like Mexico, whose pipelines are frequently targets of robberies and insurgent attacks, are boosting their spending on process automation connected to pipeline security.
Ask here for more customization [email protected] https://www.precedenceresearch.com/customization/2533
Scope of the Report
| | |
| --- | --- |
| Report Attributes | Details |
| Revenue Forecast by 2032 | USD 321.98 Billion |
| CAGR | 9.52% from 2023 to 2032 |
| Largest Revenue Holder | North America |
| Fastest Growing Region | Asia Pacific |
| Base Year | 2022 |
| Forecast Year | 2023 to 2032 |
| Key Players | ABB Ltd., DassaultSystèmes, General Electric Co., Emerson Electric Co., Honeywell International Inc., Johnson Controls International, Mitsubishi Electric Corporation, Microsoft Corporation, Robert Bosch GmbH, Schneider Electric SE, and Siemens AG and Others |
Market Dynamics of Smart Factory Market
Market Drivers
IoT hardware and smart factory technology significantly affect productivity, product quality, and safety throughout the manufacturing value chain. Quality control, equipment upkeep, warehouse operations, inventory management, and other manufacturing processes are all parts of smart manufacturing that can be aided by IoT technology. Additionally, as AI and machine learning skills become more widely used, they may improve speed, accuracy, and data analysis, considerably fuelling the market growth.
The industry under study may widen its reach further through developments in the device market, sensors, and robotics. IoT technology, particularly in wealthy nations like the United States, is resolving the manufacturing sector's manpower problem. The Federal Government and the corporate sector in the United States are investing in Industry 4.0 IoT technology in order to enhance the American industrial base.
Market Restraints
The high expenses of automated systems are related to reliable and effective hardware and productive software. To invest in the smart factory, automation equipment will require more capital (a computerized system can cost millions of dollars to install, design, and fabricate). Additionally, automated equipment requires more maintenance than a manual technique (even flexible automation is less flexible than humans, the most versatile machines of all).
The slower adoption of Industrial IoT technology can be related to the higher costs of maintaining M2M connections, which were severely charged, much like mobile device subscriptions. The constant updates in networking and Technology also, because significant cost increases are significantly greater than the initial investment, further hampers the market growth.
Market Opportunities
The use of articulating robots has grown dramatically during the past few years in several industries, including component assembly and vehicle painting. Nevertheless, the market's expansion was aided by the extensive use of articulated robots in aerospace, oil, gas, and numerous other industries that frequently produce massive parts using articulated robots. For instance, heavy steel girders can be moved using powerful and effective KUKA Titan and 6-axis articulated robots. To increase industrial productivity, decrease human error and effort, and improve end-product quality, articulated robots are utilized to create massive quantities accurately and quickly.
Related Reports
Recent Development
October 2022 – With orders from Stadler Valencia worth $170 million, more than 300 new locomotives and trains will be driven by highly energy-efficient traction technologies. They will be used in several European railway networks to reinforce and modernize train travel in countries including Germany, Austria, Spain, Portugal, the United Kingdom, and several other European rail lines.
October 2022 – Accelleron Industries AG, a global leader in high-power turbochargers for mission-critical applications, has received permission to begin trading on the SIX Swiss Exchange in Zurich using the ticker symbol "ACLN," according to an announcement made by ABB as part of Accelleron's spin-off completion from the company.
September 2022 – This year's theme of World Maritime Day on September 29, Technology for greener shipping, is covered in the most recent edition of ABB's podcast ABB Decoded, which is Technology-focused. The theme is an opportunity to focus on the value of a sustainable maritime sector and participate in a global discussion on the issue.
Market Segmentation
By Product
Machine Vision Systems

Cameras
Processors
Software
Enclosures
Frame Grabbers
Integration Services
Lighting

Industrial Robotics

Articulated Robots
Cartesian Robots
Cylindrical Robots
SCARA Robots
Parallel Robots
Collaborative Industry Robots

Control Devices

Relays and Switches
Servo Drives and Motors

Sensors
Communication Technologies
Other Products
By Technology
Product Lifecycle Management (PLM)
Human Machine Interface (HMI)
Enterprise Resource and Planning (ERP)
Distributed Control System (DCS)
Manufacturing Execution System (MES)
Programmable Logic Controller (PLC)
Supervisory Controller and Data Acquisition (SCADA)
Other Technologies
By End-User Industry
Automotive
Semiconductors
Oil and Gas
Chemical and Petrochemical
Pharmaceutical
Aerospace and Defense
Food and Beverage
Mining
Other End-user Industries
By Geography
North America
Europe
Asia-Pacific
Latin America
The Middle East and Africa
Immediate Delivery Available | Buy this Premium Research [email protected] https://www.precedenceresearch.com/checkout/2533
You can place an order or ask any questions, please feel free to contact at [email protected] | +1 9197 992 333
About Us
Precedence Research is a worldwide market research and consulting organization. We give unmatched nature of offering to our customers present all around the globe across industry verticals. Precedence Research has expertise in giving deep-dive market insight along with market intelligence to our customers spread crosswise over various undertakings. We are obliged to serve our different client base present over the enterprises of medicinal services, healthcare, innovation, next-gen technologies, semi-conductors, chemicals, automotive, and aerospace & defense, among different ventures present globally.
For Latest Update Follow Us:
https://www.linkedin.com/company/precedence-research/
https://www.facebook.com/precedenceresearch/
https://twitter.com/Precedence_R