Tokyo, Jan. 18, 2023 (GLOBE NEWSWIRE) — The automotive sunroof market is growing due to the development of advanced technologies by original equipment manufacturers (OEMs). The primary factors driving the global automotive sunroof industry growth are advancements in glass technology and increased demand for safety, comfort, and convenience.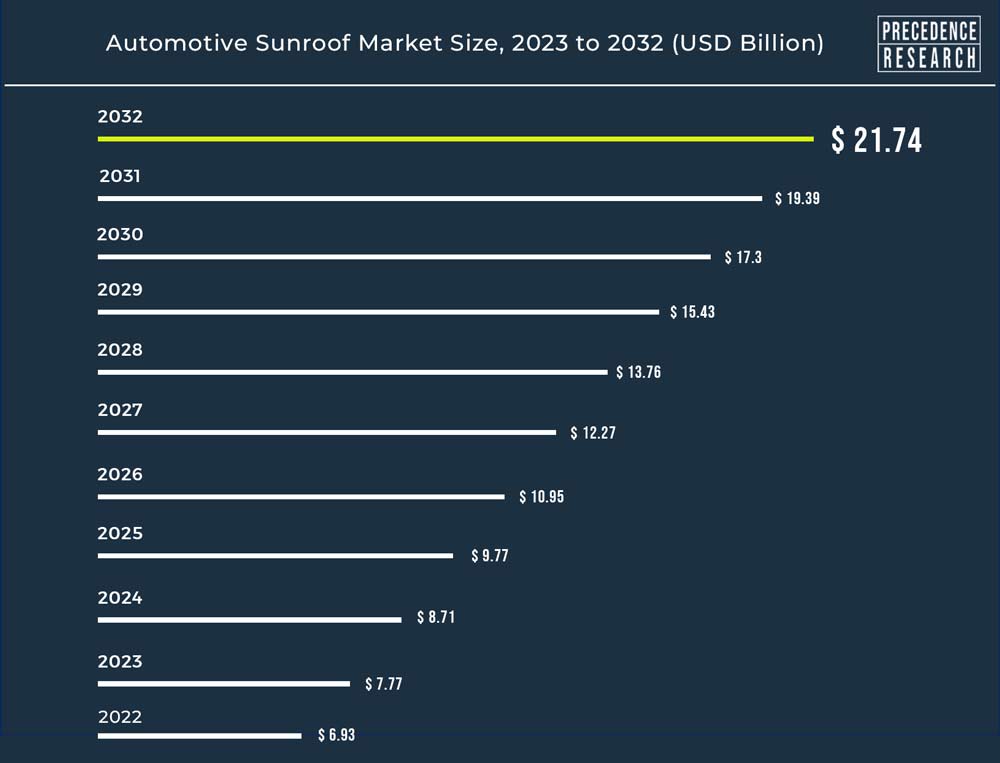 Key Insights:
Asia-Pacific market has accounted highest revenue share in 2022.
Europe market has hit second position for the automotive sunroof market in term of revenue.
The panoramic sunroof type segment has held largest revenue share in 2022.
The automatic operation segment is expected to grow strongly from 2023 to 2032.
The glass sunroof material type segment has generated revenue share of 80% in 2022.
The OEM distribution channels segment has dominated the market in 2022.
The passenger car segment is expected to grow at a highest CAGR from 2023 to 2032.
Get the sample copy of this [email protected] https://www.precedenceresearch.com/sample/2552
Impact of COVID-19 on the global automotive sunroof market
The automotive sunroofs industry suffered because of the COVID-19 outbreak in 2020. The pandemic has significantly impacted countries such as India, China, and Australia. However, the situation improved after covid due to several factors, including an increased focus by automobile manufacturers on developing new vehicles with advanced features, rising adoption of advanced technologies, and an increase in the number of automobile manufacturers in countries throughout the region.
Market Dynamics
Drivers
Alternative routes for emergencies
Unexpected mishaps are unavoidable in the future. In these situations, having an escape route is essential. This is where vehicles with panoramic sunroofs may appear helpful. When the vehicle becomes flooded or the windows refuse to open, most designs are equipped to entirely remove the glass, providing an alternate route to exit the vehicle safely.
Rising demand for commercial vehicles in the logistics sector and pent-up demand are a few factors that will propel the market in the coming years. Furthermore, the electrification of vehicles, particularly passenger cars, is expected to influence further market growth significantly. According to the Society of Indian Automobile Manufacturers, the passenger car segment had the highest sales volume of 13,466,412 in the fiscal year 2021-22.
Ask here for more customization [email protected] https://www.precedenceresearch.com/customization/2552
Scope of the Report
| | |
| --- | --- |
| Report Attributes | Details |
| Revenue Forecast by 2032 | USD 21.74 Billion |
| CAGR | 12.11% from 2023 to 2032 |
| Base Year | 2022 |
| Forecast Year | 2023 to 2032 |
| Key Players | Webasto SE, Inalfa Roof Systems B.V., Inteva Products LLC, Aisin Seiki Co., Ltd., Magna International, Inc., CIE Automotive, Wuxi Ming Fang AutoMobile Parts, Wuhu Mosentek Automobile Technology, Yachiyo Industry Co. Ltd, Zhejiang Wanchao Electric Co. Ltd, Johnan Manufacturing Inc. and Others |
Restraint
Influence on the resale value
Since many auto dealers and individual buyers do not want a vehicle with safety issues, aftermarket sunroofs significantly impact the automobile's resale value. Although some people will be drawn to it, most will avoid it, primarily because it is an aftermarket item that could leak or break at any time.
Sunroofs have grown in size and surface area, which causes them to absorb too much heat, leading to sunroof failure or sunroof-shattering incidents. According to the National Highway Traffic Safety Administration, exploding sunroofs have caused more injuries, which has been a significant restraint for the automotive sunroof market. Between 2002 and 2012, approximately 230 people were killed, and 500 were injured yearly because of ejecting from closed sunroofs.
One limitation of the sunroof market is the possibility of car theft due to sunroofs. Keep windows and sunroofs closed and doors locked to reduce the likelihood of car theft. Unlocked cars account for nearly one-quarter of all vehicle thefts.
Opportunities
Growth in sports as well as luxury vehicle sales
A critical automotive panoramic sunroof market trend expected to impact the industry during the projected period positively is the rising acceptance of sunroofs in sports vehicles. Panoramic sunroofs are available in fixed and openable configurations; allowing sunlight to pass through them increases the vehicle's brightness. Consumers' desire for a more comfortable driving experience is expected to propel the demand for automotive panoramic sunroofs. These sunroofs aid in keeping the vehicle aired, maintaining optimal airflow. The panoramic sunroof adds to passenger comfort. Furthermore, rising income and changing consumer lifestyles are expected to fuel demand for automotive sunroofs during the anticipated period.
Challenges
Higher cost and less headroom
The laminar airflow develops into a turbulent top of added drag when the sunroof is open while traveling at high speeds, affecting the vehicle's aerodynamics. Since it is glass, it has the potential to shatter, and if this occurs, replacement/repairs will become extremely expensive.
Sunroofs influence a vehicle's mileage which is fuel consumption. The panoramic sunroof weighs 90 kg, while standard sunroof systems weigh between 25 and 35 kg. Sunroofs consume headroom because the sliding roof must go somewhere while it is open. The sunroof in cars, such as an inbuilt sunroof, can reduce headroom space, making passengers uncomfortable. Passengers have more headroom in cars without sunroofs.
Segmentation Insights
Sunroof type landscape
In terms of sunroof type, the panoramic segment held the highest market share in 2022. Various car manufacturers provide panoramic sunroofs to enhance ventilation. The category market share is anticipated to grow due to improved airflow and product upgrades with sun-protective coatings.
The inbuilt segment is expected to grow due to additional functions such as sunshades, vents, and auto close, which improve vehicle comfort. Inbuilt sunroofs, also known as flush-mount sunroofs, are a type of automotive sunroof built into the vehicle's roof. Since they are made to integrate with the roof seamlessly, built-in sunroofs give the vehicle a sleek and stylish appearance.
Operational landscape
Based on operation, the automatic sector is expected to grow remarkably in the market in 2022. This is due to the rising demand for simple-to-use automobile technologies. The device operates with minimal driver intervention and is used remotely or in conjunction with any vehicle power system.
The manual sunroof must be operated manually using a lever or a crank to assist the glass sliding motion. As a result, the appeal for manual sunroofs has decreased over time.
Distribution channel landscape
Based on the distribution channel, the OEM sector ruled the market. The availability of safety enhanced durability, and improved service with less maintenance, are essential factors driving demand for the OEM segment. Another vital factor propelling the OEM automotive sunroof industry growth is increased auto production.
The aftermarket segment is also predicted to grow significantly in the near future, owing to the high demand for aftermarkets caused by electrical faults or damage to sunroof parts in accidents. Growing car personalization trends and a teenage population demanding aftermarket sunroof installations are two key factors propelling the market for sunroofs.
Material type landscape
In 2022, the glass sunroof segment held the largest market share in term of revenue. The segment's growth is attributed to technological advancements, which have enabled the manufacture of various kinds of glassware, such as laminated glass, tempered glass, and glass that can protect against ultraviolet rays.
As a result of falling convertible car sales, the market for the fabric segment is expected to decline over the forecast period. Car sales are declining due to high maintenance costs and safety concerns. Membrane structures of fabric segments have a unique fire performance because they do not contribute fuel to the fire. Fabric Membrane covers do not require painting because dust, dirt, and other pollutants wash away with a bit of water.
Vehicle type landscape
Based on vehicle type, the passenger car segment is anticipated to grow significantly due to the introduction of cost-effective options and features such as natural ventilation and increased comfort. The rise in demand for passenger vehicles due to the increase in the middle-income group population and the rise in living standards in emerging countries are the major factors driving the segment's growth.
The light commercial vehicle market is expected to expand during the predicted period due to the enhanced adoption of sports utility vehicles, particularly in developing countries. The increasing penetration of downsized engines in LCVs drives vehicle prices, propelling the light commercial vehicle (LCV) segment forward. Euler Motors, a supplier of commercial electric vehicles, announced in August 2021 that Flipkart, BigBasket, Udaan, and other e-commerce, hyperlocal, and B2B delivery competitors had an order for 2,500 EVs for intra-city deliveries.
Regional landscape in the global automotive sunroof market
The Asia-Pacific market accounts for a sizable portion of the global automotive sunroof market. This is primarily due to increased automobile production. Carmakers sold 219,421 passenger vehicles in the domestic market in December 2021, a 13% decrease from the previous year, according to the Society of Indian Automobile Manufacturers (SIAM).
Europe is the second-largest market and is expected to increase in the coming years. This is due primarily to the growing popularity of luxury vehicles and OEMs' proclivity to include features that improve the driving experience.
Related Reports
Get Our Latest Press [email protected] https://www.precedenceresearch.com/press-releases
Recent developments
BMW X3 xDrive30i Sport X launched in India in February 2021 for INR 56.5 lakh. The new vehicle is manufactured locally at the BMW Group Plant in Chennai, and the company has announced the availability of the 'Sport X' petrol variant of the BMW X3.
AGC Inc. (AGC) announced in May 2021 that the Lexus RZ, the brand's first dedicated battery EV model, had implemented its light-control panoramic roof of Low-E coating.
Webasto SE (Webasto) announced that it had provided PBO 2.0 large bottom-mounted panoramic sunroofs under the WEY brand for Great Wall Motor's Mocha DHT-PHEV in March 2021.
In August 2022, about 2300 Golf GTI and Golf R units were recalled by Volkswagen due to an issue with the sunroof button.
Segments Covered in the report
By Sunroof Type
Inbuilt Sunroof
Spoiler Sunroof
Panoramic Sunroof
Pop-Up Sunroof
Others
By Operation
Passenger Cars
Light Commercial Vehicles
Automatic
By Material Type
By Distribution Channels
By Vehicle Type
Passenger Cars
Lightweight vehicles
Electric Powered Vehicle
By Geography
North America
Europe
Asia Pacific
LAMEA
Immediate Delivery Available | Buy this Premium Research [email protected] https://www.precedenceresearch.com/checkout/2552
You can place an order or ask any questions, please feel free to contact at [email protected] | +1 9197 992 333
About Us
Precedence Research is a worldwide market research and consulting organization. We give unmatched nature of offering to our customers present all around the globe across industry verticals. Precedence Research has expertise in giving deep-dive market insight along with market intelligence to our customers spread crosswise over various undertakings. We are obliged to serve our different client base present over the enterprises of medicinal services, healthcare, innovation, next-gen technologies, semi-conductors, chemicals, automotive, and aerospace & defense, among different ventures present globally.
For Latest Update Follow Us:
https://www.linkedin.com/company/precedence-research/
https://www.facebook.com/precedenceresearch/
https://twitter.com/Precedence_R