Intelligent process Automation Market Size is Expanding at USD 51.26 Bn by 2032
<!– Name:DistributionId Value:8846435 –> <!– Name:EnableQuoteCarouselOnPnr Value:False –> <!– Name:IcbCode Value: –> <!– Name:CustomerId Value:1213849 –> <!– Name:HasMediaSnippet Value:false –> <!– Name:AnalyticsTrackingId Value:eac873ba-29fc-4f49-89d4-a600a631dea4 –>
Ottawa, May 25, 2023 (GLOBE NEWSWIRE) — According to Precedence Research, the global intelligent process automation market size will reach USD 39.52 billion in 2030. The use of artificial intelligence and technologies like machine learning, cognitive automation, and computer vision with robotic process automation is part of the development of the concept of intelligent process automation. These solutions assist companies in streamlining their processes by getting rid of routine, repetitive, and repeated tasks. This enhances response times and reduces process-related operational risk. It is widely used in IT operations, application and content management, security, and business process automation. Digital process automation (DPA), robotic process automation (RPA), and artificial intelligence are the main technologies that go into intelligent process automation (AI).
Ask here for report sample pages@ https://www.precedenceresearch.com/sample/2772
Intelligent process automation has several advantages, such as effective governance and risk minimization, coordination of work across robots, humans, and systems, end-to-end process visibility and customer journey visibility, agility and speed of process modification, and increased market acceptance.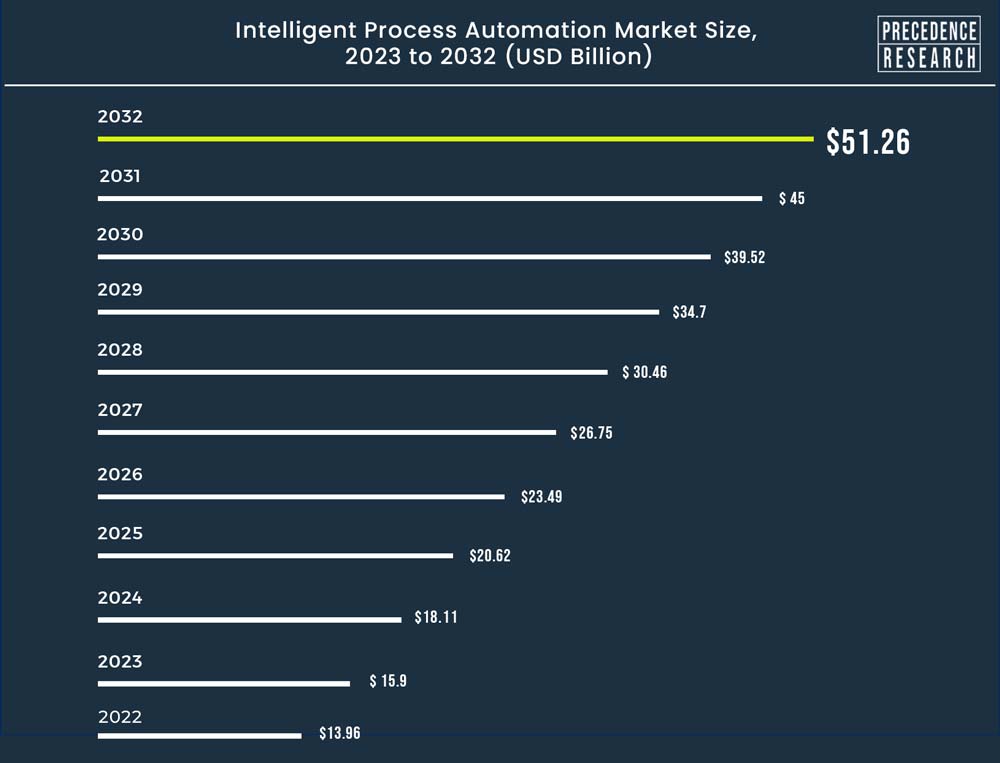 In order to keep their business profitable, organizations all around the world are embracing Intelligent Process Automation. A number of business advantages are provided by intelligent process automation, including the organization of humans and robots, the automation of tedious and scheduled tasks, the assurance of sound management and the reduction of risk, the measurement of permeability across the entire client journey, and business sprightliness and accelerating the rapidly changing business measures. Organizations can increase their efficiency by identifying, modeling, surveying, assessing, improving, advancing, overseeing, and computerizing various organizational procedures.
Key Insights:
Europe region has registered 33% market share in 2022.
By Vertical, the BFSI segment has captured 36% market share in 2022.
By Technology, the machine learning segment has held 40% market share in 2022.
By Offering, the solution segment has held largest market share in 2022.
By Organization Size, the SMEs has held largest market share in 2022.
By Application, the IT operations segment has held largest market share in 2022.
By Deployment Mode, the on-premises segment has held largest market share in 2022.
You can further customize the report@ https://www.precedenceresearch.com/customization/2772
Scope of the report
Coverage
Details
Market Size in 2030
USD 39.52 Billion
CAGR
13.89% from 2023 to 2032
North America Market Share
41%
Asia Pacific Market Share
18%
LAMEA
8%
Key Players
Wipro, Capgemini, Cognizant, Syntel, Tech Mahindra, Infosys, Accenture, HCL Technologies, Tata Consultancy Services, Xerox Corporation, Genpact and Others
Regional Snapshots
The market is currently dominated by North America. This is a result of increased cellphone penetration and widespread use of artificial intelligence in the area. Due to the rapid rise in demand for automated processes and cloud-based technologies, together with rising investment in the IT industry, the intelligent process automation market in Asia-Pacific is anticipated to grow at the fastest rate during the forecast period. The development of digital economy in emerging nations will also fuel this region's prosperity. With the growing need for process automation in nations like Germany and Italy, which are known for their industrial centers, the European market is anticipated to maintain its dominance and open up new potential opportunities. Process automation is anticipated to be accelerated by the issues of high labor costs and a lack of sufficient skilled workers.
On the strength of the establishment of manufacturing facilities by certain global companies and stimulated Foreign Direct Investments in rising countries like India, the Asia-Pacific market is anticipated to attain new development avenues over the scheduled course of time.
Market dynamics
Drivers
The market for intelligent process automation is expanding significantly as a result of the rising need for automated IT solutions. In addition, a major driver of the market's development is the rising use of resource optimizations such intelligent automation in reaction to a decline in human interaction. Additionally, a favorable effect element on market growth was imposed as digitalization investment increased. The market's expansion is, however, being hampered by worries about the prohibitive implementation costs and legal compliance requirements.
The growth of the intelligent process automation market is driven by the accelerated acceptance rate of automation processes to transform over work environments efficiency. The advancement in the choice of computerization programming has also stimulated the growth of the intelligent process automation market due to the advanced transformation, the increase in speculation by company visionaries, and the ability to make speedier business decisions.
Restraints
IPA systems require continuous upkeep and defense against cyberattacks. Companies must invest significantly in the installation of sophisticated security systems as well as ongoing maintenance. Additionally, a newly automated operational model needs competent personnel to run, but it's critical to find people with RPA and AI experience. This includes technical competence, knowledge of the organization's commercial practices, and the capacity to modify management strategies. Equally important to employing or upskilling employees to implement automation is allocating people to continual maintenance, support, and troubleshooting. For small and medium-sized firms, the total cost is extremely expensive and includes maintenance, cybersecurity charges, recruiting fees, and training expenses. Therefore, these expenses create a barrier to IPA market expansion in the smaller industries.
Opportunities
The market for intelligent process automation is expanding as workplace productivity is increasingly being converted by automation procedures. Additionally, the advancement in the usage of automation software has contributed to the expansion of the intelligence process automation market. These factors include the digital revolution, the rise in entrepreneur investment, and the capacity to make business choices more quickly. Additionally, the rise is being fueled by the telecommunications, healthcare, and IT industries' growing embrace of process automation. During the projection period, it is also projected that the creation of a unified intelligent automation tool, rising R&D advances, and the growth of digital workforces would present significant potential in the process automation market.
Additionally, the use of intelligent process automation in the banking sector has significantly increased recently. In the stage of intelligent process automation, firms must provide data to customers, but manual processes, such processing insurance claims or automating customer requests, take a significant amount of time. As a result, adopting intelligent process automation helped businesses run more efficiently. For instance, one of the biggest banking groups in Latin America, Bancolombia, uses bizagi as their platform for intelligent process automation to give improved customer care both online and in-person, enabling robots and people to collaborate successfully.
Challenges
A newly automated operational model needs skilled labor to run, but it's critical to find people with RPA and AI experience. This involves technical expertise, familiarity with the business procedures of the firm, and the ability to change management tactics. The employment or upskilling of humans to construct automation, which is often top of mind, is equally important as assigning people to continual maintenance, support, and troubleshooting. According to McKinsey, there is a 31% skilled labor scarcity in Asia, a 27% skilled labor need in Europe, and a 25% skilled labor shortage in the US when it comes to implementing IPA solutions.
Report highlights
Intelligent process automation is expected to have significant market expansion due to the high emphasis on automation in processes and the trend of applying artificial intelligence to improve working efficiency and process quality.
Customers are becoming more attracted to intelligent process automation due to the entrance of new market participants and ongoing growth and innovation by global companies.
During the anticipated period, the services sector is anticipated to dominate the market for intelligent process automation.
Throughout the projection, North America is expected to continue to dominate the market. The growth in the enterprise's usage of process management and automation technologies in the US is fueling regional development.
The BFSI industry had the largest market share in 2022. The BFSI sector automates repetitive tasks including data entry, regulatory compliance, assembly, and formulation to boost speed and efficiency.
Related Reports
Recent developments
IBM Corporation and Cisco Systems Inc. announced their partnership in October 2021 with the goal of facilitating the orchestration and administration of a sizable number of 5G core and radio nodes.
IBM Corporation announced the release of hybrid cloud-based and AI-powered automation software in June 2021. This software will let different communication service providers automate the administration of the 5G network more quickly and across a variety of contexts.
Market Segmentation
By Technology
Natural language Processing
Machine and Deep Learning
Neural Networks
Virtual Agents
Mini Bots
Computer Vision
Others
By Organization Size
By Application
IT Operations
Business Process Automation
Application Management
Content Management
Security Management
Other
By Deployment Mode
By Vertical
BFSI
Telecommunication and IT
Manufacturing & Logistics
Media & Entertainment
Retail & eCommerce
Healthcare & Life Sciences
Others
By Geography
North America
Europe
Asia-Pacific
Latin America
The Middle East and Africa
Immediate Delivery Available | Buy This Premium Research Report@ https://www.precedenceresearch.com/checkout/2772
You can place an order or ask any questions, please feel free to contact at [email protected] | +1 9197 992 333
About Us
Precedence Research is a worldwide market research and consulting organization. We give an unmatched nature of offering to our customers present all around the globe across industry verticals. Precedence Research has expertise in giving deep-dive market insight along with market intelligence to our customers spread crosswise over various undertakings. We are obliged to serve our different client base present over the enterprises of medicinal services, healthcare, innovation, next-gen technologies, semi-conductors, chemicals, automotive, and aerospace & defense, among different ventures present globally.
For Latest Update Follow Us:
https://www.linkedin.com/company/precedence-research/
https://www.facebook.com/precedenceresearch/
https://twitter.com/Precedence_R
Belgian Commitment to Partnership Supports a New Frontier of Europe-US Space Research
BRUSSELS, Dec. 10, 2023 /PRNewswire/ — Belgian Prime Minister Alexander De Croo has travelled to Houston, United States, to meet Raphaël Liégeois, the Belgian career astronaut selected as part of the European Space Agency (ESA) astronaut class of 2022. De Croo's visit coincides with the ESA cohort's familiarisation trip to NASA's Johnson Space Centre, which is the precursor to a further two years of training, delivered in Houston, to prepare the astronauts for their respective missions on the International Space Station. The visit signals a new phase of the long-standing collaboration between Europe and the United States on space research and exemplifies Belgium's commitment to partnerships in facing global challenges.
Belgium's expertise in aerospace, and in science more generally, is internationally recognised – in terms of both training and industry. Belgium is a founding member of the ESA and its fifth-largest funder. The country's support of the ESA shows its commitment to shaping the development of Europe's space capability and ensuring that investment in space continues to deliver benefits to the citizens of Europe and the world.
"For Belgians, the sky isn't the limit, the universe is," said De Croo. "Today, we are very proud to see Raphaël take this important step in his career as an astronaut. He will be an important role model for many generations of STEM students to come. Space research and innovation hold particular importance for Belgium; they are powerful economic drivers which foster the growth of high-tech industries and create jobs – as evidenced by the number of Belgian companies on the cutting edge of aeronautics." 
The 17 members of the ESA astronaut class of 2022 were selected from a pool of over 23,000 applicants. The process, designed to bring together the finest scientific minds that Europe has to offer, took place over a period lasting 18 months.
The selection of Raphaël Liégeois is testament to Belgium's focus on embracing openness, driven by innovation, partnerships, and diversity, to create solutions that drive progress for all.
About Belgium
Located in the heart of Europe, Belgium is one of the most open economies in the world, counting 11.5 million people with a reputation for innovation, hard work, partnership, and multilingualism. Strategically located between Germany, the Netherlands, France, and Luxembourg, and only a stone's throw from the UK, it lies at the centre of the richest and most densely populated area in Europe. A member of the European Union, Belgium enjoys full access to the world's most advanced single market and customs zone which ensures extensive frictionless trade.
Belgium boasts a highly developed transport infrastructure, including the second largest seaport in Europe (Antwerp). Belgium is home to world-leading research and innovation facilities, multinational corporations, and artisanal businesses supported by the investor-centric approach of public services.
Photo – https://mma.prnewswire.com/media/2297131/FPS_Chancellery.jpg
View original content:https://www.prnewswire.co.uk/news-releases/belgian-commitment-to-partnership-supports-a-new-frontier-of-europe-us-space-research-302010742.html
Savory & Partners: Digital Nomad Visas Sparking a Migration Boom
DUBAI, UAE, Dec. 9, 2023 /PRNewswire/ — The simplicity and lax requirements of digital nomad visas have made them easily accessible, and countries like Portugal and Spain, which have excellent infrastructure, great internet connection, and an outstanding standard of living, draw in more digital nomads by the day, according to experts at Dubai-headquartered citizenship and residency by investment advisors Savory and Partners.
A recent research quoted by the company estimates that there are 16.9 million digital nomads roaming the globe. This is a whopping 162% increase from 2019, just four years earlier.
As soon as Portugal introduced its digital nomad visa in October of 2022, the applications started pouring in. While the government hasn't announced the number of applications it has received, Portugal's Labour Minister did announce that the country approved 550 applications within the first six months.
Two months after launching its visa in September of 2021, Greece received 2,918 applications, approving an astonishing 1,693 applicants. The government is yet to release any new statistics, but going off that outstanding start it is safe to assume it is still garnering massive attention.
Germany also boasts impressive numbers, having issued a total of 3,638 visas in just one year since the introduction of its visa in 2018.
According to Residency Malta, the government branch responsible for the digital nomad visa, it has issued 1,041 visas to date, with an average approval rate of 78%.
Croatia, one of the first countries to introduce a pure digital nomad visa in early 2021 as a response to the rise in remote workers, has approved 680 applications, while 672 are still pending approval.
Not just Europe
"It's not just Europe but even Barbados' digital nomad visa, dubbed the Welcome Stamp, has been doing outstandingly well, receiving a total of 3,511 applications between 2020 and 2022", a digital nomad specialist at Savory & Partners reports.
While digital nomads typically use visa-free access or visas to stay in countries for a few months at a time before moving on to the next, digital nomad visas provide a sense of comfort and stability that aligns perfectly with their lifestyle, giving them ample time to enjoy the country they are in before moving on to the next.
Unsurprising demand
The rapid growth in application numbers and the surging demand for digital nomad visas isn't surprising. They are extremely simple to apply to, have fast processing times ranging from a few days to a couple of months, and they do not require any business establishment or investment.
Portugal's digital nomad visa, for example, only requires applicants to prove a monthly income of €3,040 per month, while Spain's visa has a lower threshold of just €2,160 per month.
Savory & Partners is an accredited agent for multiple governments where citizenship by investment is offered. The company has coverage in over 20 jurisdictions, including Europe and was the first firm to obtain all five authorised agent licenses for the governments of the Caribbean Islands. It has processed second passports for over 4,000 citizens with a 100 per cent success rate.
With a presence in 3 continents and 7 countries and more than 60 experts worldwide, the company's multinational staff comprises advisors who guide clients in English, Arabic, Farsi, French, Spanish and Hindi.
To know more about Savory & Partners, visit www.savoryandpartners.com.
For more information, please send an email to [email protected] can also call +971 04 430 1717 or send a WhatsApp message to +971 54 440 2955.
Logo – https://mma.prnewswire.com/media/1738007/3747594/Savory_and_Partners_Logo.jpg
 
 
View original content:https://www.prnewswire.co.uk/news-releases/savory–partners-digital-nomad-visas-sparking-a-migration-boom-302010292.html
Robotic Lawn Mower Market to Reach $2.4 Billion, by 2032 at 10.9% CAGR: Allied Market Research
The increasing demand for smart appliances for garden maintenance by global consumers, along with the development of IOT enabled features is fueling the growth of the robotic lawn mower market.
WILMINGTON, Del., Dec. 8, 2023 /PRNewswire/ — Allied Market Research published a report, titled, "Robotic Lawn Mower Market by Range (Low-Range Robotic Lawn Mower, Medium-Range Robotic Lawn Mower, and High-Range Robotic Lawn Mower), End User (Residential User and Commercial User), and Distribution Channel (Retail and Online): Opportunity Analysis and Industry Forecast, 2023-2032". According to the report, the global robotic lawn mower market size was valued at $838.5 million in 2022, and is projected to reach $2.4 billion by 2032, growing at a CAGR of 10.9% from 2023 to 2032.
Request Sample Copy of Report: https://www.alliedmarketresearch.com/request-sample/5117 
Prime determinants of growth
The robotic lawn mower market is driven by factors such as increase in demand for automation, rise in advancements for technology, and increase in popularity of online platforms. However, the rise in regular maintenance and repair costs restricts market growth. Moreover, the increase in demand for rental robotic lawn mowers offers new opportunities in the coming years.
Report coverage & details:
Report Coverage
Details
Forecast Period
2023–2032
Base Year
2022
Market Size in 2022
$838.5 million
Market Size in 2032
$2.4 billion
CAGR
10.9 %
No. of Pages in Report
250
Segments covered
Range, End User, Distribution Channel, and Region
Drivers
Increase in demand for automation
Rise in advancements for technology
Reduction in the labor costs
Opportunities
Increase in demand for rental robotic lawn mowers
Growth in the adoption of internet of things
Declining Cost of Batteries/Fuel Cells
Restraints
Less adoption in developing markets
Regular maintenance and repair costs
 
Procure Complete Report (250 Pages PDF with Insights, Charts, Tables, and Figures): https://www.alliedmarketresearch.com/checkout-final/64e274edbc38210d8eac6958c5995e56 
The medium range robotic lawn mower segment to maintain its leadership status throughout the forecast period
Based on range, the medium range robotic lawn mower segment dominated the market in 2022 accounting for more than half of the market share and is expected to dominate the market during the forecast period. This segment is projected to manifest the highest CAGR of 10.4% from 2023 to 2032, owing to the increase in residential and commercial spaces such as buildings, corporate spaces, sports centers, and public parks, which has fueled the requirement for medium range robotic lawn mowers.
The residential segment to maintain its leadership status throughout the forecast period
Based on end user, the residential segment dominated the market in 2022 accounting for less than three-fourths of the market share and is expected to dominate the market during the forecast period. This segment is projected to manifest the highest CAGR of 10.7% from 2023 to 2032, owing to the increase in the demand for low and medium range robotic lawn mowers in the residential sector due to the increased requirement for lawn care and maintenance.
The retail segment to maintain its lead position during the forecast period
On the basis of the distribution channel, the retail segment dominated the market in 2022 accounting for less than half of the market share and is expected to maintain its dominance during the forecast period. The increased demand for ecologically friendly and sustainable robotic lawn mowers, which is being driven by the rising awareness of environmental challenges, is one of the main factors boosting retail sales.
Europe to maintain its dominance by 2032
Based on region, Europe held the highest market share in terms of revenue in 2022, accounting for less than two-fifths of the market share and is expected to maintain its dominance during the forecast period. The growing popularity in artificial intelligence for performing day-to-day activities with higher efficiency is among the primary factors driving the Europe robotic lawn mower market.
Enquire before buying: https://www.alliedmarketresearch.com/purchase-enquiry/5117 
Leading Market Players: –
Robert Bosch GmbHHusqvarna ABHonda Motor Co., Ltd.Zucchetti Centro Sistemi S.p.A.Stiga C S.a.r.l.Andreas Holding AG & Co. KGPositec Tool CorporationWiper S.R.L.Suzhou Cleva Electric Appliance Co., Ltd.Stanley Black & Decker, Inc.The report provides a detailed analysis of these key players in the robotic lawn mower market. These players have adopted different strategies such as acquisition, partnerships, and new product launches to increase their market share and maintain dominant shares in the market. The report is valuable in highlighting business performance, operating segments, product portfolio, and strategic moves of market players to showcase the competitive scenario.
Read More Trending "AMR Exclusive Insights:
Lawn and Garden Water Equipment Market Opportunity Analysis and Industry Forecast, 2023-2032Canada Lawn and Garden Water Equipment Market Opportunity Analysis and Industry Forecast, 2022-2032Mexico Lawn and Garden Water Equipment Market Opportunity Analysis and Industry Forecast, 2022-2032Europe Lawn and Garden Water Equipment Market Opportunity Analysis and Industry Forecast, 2022-2032France Lawn and Garden Water Equipment Market Opportunity Analysis and Industry Forecast, 2022-2032Germany Lawn and Garden Water Equipment Market Opportunity Analysis and Industry Forecast, 2022-2032About Us:
Allied Market Research (AMR) is a full-service market research and business-consulting wing of Allied Analytics LLP based in Wilmington, Delaware. Allied Market Research provides global enterprises as well as medium and small businesses with unmatched quality of "Market Research Reports" and "Business Intelligence Solutions." AMR has a targeted view to provide business insights and consulting to assist its clients to make strategic business decisions and achieve sustainable growth in their respective market domain.
Pawan Kumar, the CEO of Allied Market Research, is leading the organization toward providing high-quality data and insights. We are in professional corporate relations with various companies and this helps us in digging out market data that helps us generate accurate research data tables and confirms utmost accuracy in our market forecasting. Each and every data presented in the reports published by us is extracted through primary interviews with top officials from leading companies of domain concerned. Our secondary data procurement methodology includes deep online and offline research and discussion with knowledgeable professionals and analysts in the industry.
Contact:
David Correa1209 Orange Street,Corporation Trust Center,Wilmington, New Castle,Delaware 19801 USA.USA/Canada (Toll Free):+1-800-792-5285UK: +44-845-528-1300Hong Kong: +852-301-84916India (Pune): +91-20-66346060Fax: [email protected]: www.alliedmarketresearch.comAllied Market Research Blog:https://blog.alliedmarketresearch.com/consumer-goods
Logo: https://mma.prnewswire.com/media/636519/Allied_Market_Research_Logo.jpg
 
View original content:https://www.prnewswire.co.uk/news-releases/robotic-lawn-mower-market-to-reach-2-4-billion-by-2032-at-10-9-cagr-allied-market-research-302010148.html